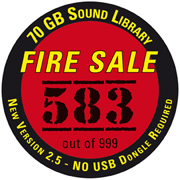 Yellow Tools has announced the Independence Pro Fire Sale, a limited product special.
Only 999 units are available for the phenomenal price of only 149 € (instead of 399 €) and the Independece Pro Crossgrade even for just 99 €. Every package of Independence Pro comes with its own number – from 001 to 999.

During the period of this special also the prices for other yellow tools products get lowered drastically. Candy, Culture, Majestic and Independence Basic are available for just 99 € (instead of 199 €). The Crossgrade is available for all users who own a registered version of Candy, Culture, Majestic and Independence Basic – software samplers of other manufactures do not qualify for this Crossgrade.

This special offer comes with some other basic changes of the yellow tools product range. From May 1st 2010 all yellow tools products do NOT require the Authorization Key (USB dongle) anymore. Only the E-License system is supported. Furthermore all products beside Independence Pro are only available as download product – these products are available at several locations, such as the yellow tools Online Shop or the Best Service platform "Sounds On Demand".
Yellow Tools Fire Sale
Special offer limited to 999 units.
70 GB premium sound library included.
Independence Pro Software Suite 2.5.4 included.
E-License version – NO USB dongle required.
Available as BOX or Download version.
Crossgrade offer (only 99 EUR) for yellow tools users.