Z3 Audiolabs has updated its Repeat-X stutter/multi-fx effect plugin for Windows to version 1.1.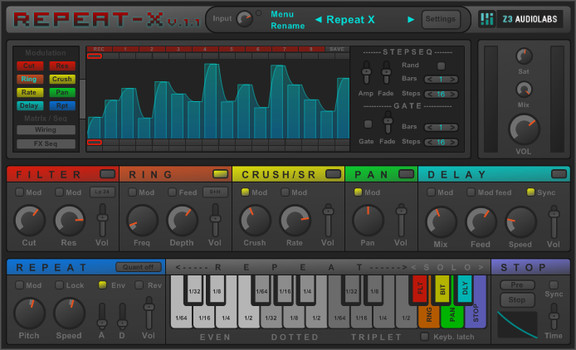 Repeat-X is a multi-effect/stutter FX vst plugin, it is designed for manipulating audio in realtime and offers you 9 effect algorithms. Effect parameters can be modulated synchronized to the host program.
Changes in Repeat-X v1.1
Bugfixes:

Fixed keyboard solo FX bug (tapestop solo didn't work right).
Fixed velocity bug (velocity for repeat section wasn't recognized).

Changes:

Separated keyboard parts for repeat and solo (the parts are independent from each other now and can be used simultaneously now).
Solo FX is also possible while FX are bypassed now.

New:

Synced tapestop times are possible now.
The filter section got 2 new filter types: 'comb notch' and 'comb peak'.
The ringmod got a S&H 'waveform' for random frequencies.
40 new presets inside (32 by Tomoroh Hidari), the presets are also partitioned now to give a better overview.
Repeat-X is available for Windows (VST), priced at 39.90 EUR.
More information: Z3 Audiolabs