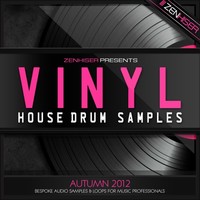 Zenhiser has announced the release of its Vinyl House Drum Samples library, a collection of over 700 drum hits.
Here at Zenhiser we are going full hog with the classic retro sound, it's where dance musics roots are and as with everything cool it will come full circle to be cool again.

'Vinyl House Drum Samples' encompasses everything that was cool in the early 90's house scene, it doesn't matter whether you were rocking to the deep house sound in the US or strutting your stride to early UK garage, this house drum kit grabs all those elements and thrusts them to your face in an awe inspiring snippet of those classic clubbing sounds.
The sample pack is available to purchase for $25 AUD.
More information: Zenhiser / Vinyl House Drum Samples