Zenhiser has announced the release of some new sample packs: Ultra 80s Drum Kit, The Minimax Tech Construktion Kit, and Booms & Breakdown FX.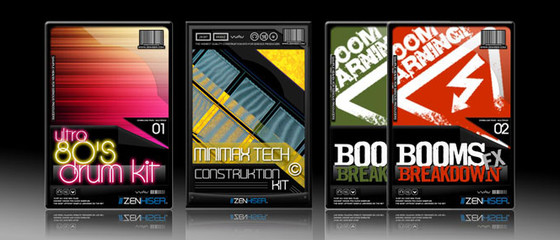 New Zenhiser sample packs
Ultra 80's Drum Kit — We've used all the tricks of the trade to create over 430 incredible 80's samples including over 100 80's kick drums and 120+ eighties snares & claps. Every 80's drum sound within this collection captures the essence and era that made 80's music so incredible. This decade gave us our first look into electronic music, brought drum machines and synthesizers to the mainstream and evolved into the dance music we hear today. With a surge of 80's sounds making a comeback we thought it was our duty to supply a extensive collection of 80's drum samples second to none.
The Minimax Tech Construktion Kit — absolutely jammed packed with over 330 minimal tech / techno samples & loops ready to be dropped into your track. If you're looking for side splitting mini tech basslines, head rocking tech beats, hooky as hell synth loops, shimmering fx loops and an essential collection of tech / techo drum sounds then this construction pack will supply all and much much more. Just check out the preview to hear exactly how dynamic and precise these samples & loops really are.
Booms & Breakdown FX — When it comes to breakdown fx, transitions, drops or heavenly booms we've got you covered. Comprising of 50 brand new 24 bit stereo wav files per pack this collection supplies a huge collection of breakdowns and booms that once dropped into your mix will ensure instant gratification.
More information: Zenhiser