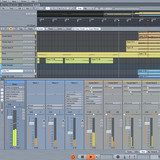 Zynewave has released version 2.42 of Podium, a professional music production software solution for Windows.
Podium is a modern production host that integrates audio recording, VST plugins and external MIDI and audio gear. An object based project structure allows for advanced media and device management.
Changes in Podium v2.42
Zoom snapshots can be configured to partially recall horizontal and vertical zoom settings. Each snapshot is configured independently, making it possible to for example set up a group of snapshots for timeline zooming, and another group of snapshots for vertical zooming. The snapshot button right-click menu has four new options for enabling timeline offset, timeline zoom, vertical offset and vertical zoom.
Zoom snapshot buttons are organized in groups according to their configured options.
Added "load default snapshots" and "save as default snapshots" commands to the snapshot button right-click menu. Snapshot defaults are saved in the Podium.ini setup file. New arrangements will automatically be set up with the zoom snapshot defaults, including the initial timeline and vertical zoom range.
The zoom snapshot "+" button right-click menu has four new shortcut commands for adding snapshots with only a single snapshot option enabled.
The default Podium setup is modified to include a set of six default zoom snapshots for horizontal and vertical zooming.
Fix: Zoom snapshots were not copied when creating copies of an arrangement.
Podium for Windows is available to purchase for $50 USD (includes one year of free upgrades).
More information: Zynewave