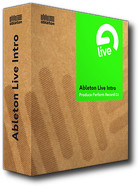 Ableton has released Live Intro, the newest member of the Ableton family which gives you the essentials of Ableton Live at a great price.
For both talented newcomers and seasoned professionals, Live Intro has got what it takes for writing songs, making beats, recording, remixing, DJing and performing music live on stage.

For those just starting out, Live Intro's fluid workflow, real-time audio manipulation and an impressive 7 GB audio content package provide a smart step into the world of music production and digital DJing.

For established DJs and producers, Live Intro provides studio-quality sound and an opportunity to plug Live's renowned composition and performance features into any digital audio setup via ReWire. Live Intro is effectively a whole new way to write and perform for less than the price of a plug-in.
Live Intro features
Multitrack recording up to 32-bit/192 kHz.
Powerful and creative MIDI sequencing of software and hardware instruments.
Advanced warping and real-time time-stretching.
Nondestructive editing with unlimited undo.
Supports AIFF, WAV, MP3, Ogg Vorbis and FLAC files.
Full ReWire support; runs as Slave or Master.
Top-grade content package with loops and beats from premium sound designers.
500 built-in Instrument Racks and Drum Racks plus Simpler (a sampler) and Impulse (a virtual drum machine).
200 built-in audio and MIDI effects.
Powerful groove engine; apply and extract grooves in real time.
VST and AU support; automatic plug-in delay compensation.
Simple MIDI mapping plus instant mapping for selected hardware.
Single-screen user interface for simple, creativity-focused operation.
Multicore and multiprocessor support.
Includes:
7 GB of instruments, beats and loops (in the boxed version of Live Intro, the download version includes a 1 GB selection).
"Construction Kits" – practical song/track templates.
Built-in interactive lessons.
Printed Getting Started Guide in English, French, German or Japanese (box only).
Localized software menus, tutorials and PDF reference manuals in English, Spanish, French, German and Japanese.
A detailed comparison between Live Intro and Live 8 is available at the Ableton website.
More information: Ableton