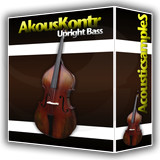 Acousticsamples has announced the release of AkousKontr, a sample library for Kontakt.
The AkousKontr is a four strings Upright bass recorded at 24bits 44.1khz both from the pickup and with an electro-static microphone.
AkousKontr features
779 Mo (1710 samples) sample library, no loops.
Sustain samples: 5 different velocities per note and 2 round robins separated in microphone and pickup samples.
Release samples: about 13 different velocities per note.
Hammer-on samples easily triggered with the keyboard thanks to the advanced scripting.
Advanced Vibrato effect controlled via modulation wheel.
Multiple slides effects.
Harmonics, ghost notes, string hits samples.
Percussion samples.
KONTAKT 2 and 3 format only, it uses a lot of script for hammers, slides, mixing, release level. Easy to use KONTAKT interface.
AkousKontr is available for purchase for 49 EUR.
More information: Acousticsamples