Sound Particles has launched a brand new audio plugin that uses the intensity of a sound to control its movement.
From traditional stereo to immersive, Energy Panner enables artists to add dynamic depth to their panning techniques without any effort or additional routing.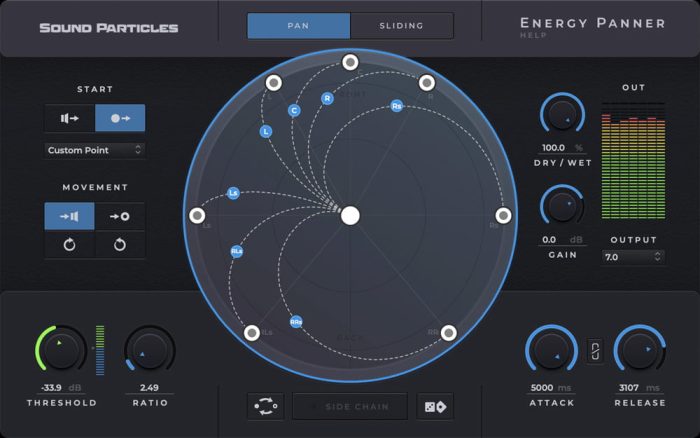 With Energy Panner, the sound intensity controls the panner, creating movement that reacts to sound. Imagine drums moving at the beat, synth notes that move on attack, among many other behaviours. From music to audio post, from stereo to Dolby Atmos, Energy Panner is a plugin that you definitely want in your toolset.
Energy Panner features
Stereo, Immersive & Binaural Outputs: From stereo, 7.1, HOA to Binaural and Dolby Atmos, Energy Panner gives you several output options based on virtual microphones technology.
Dynamic Movement: Easily set how the sounds will move. For instance, will they move from the speakers position to the centre or will they move clockwise starting from a custom position?
Sidechain: Use external signals to control the effect of the plugin instead of using the track's sound for this.
Visualization Dome: Track every single movement the sounds are making through the main component of the plugin's UI: the dome.
Randomization: Running out of ideas? Don't worry! The Energy Panner has a randomize option that outputs a new result each time you click it.
Absolute Control: Energy Panner brings you all the options you need to have complete control over how the sounds are moving in the panoramic field.
The plugin is available in VST/VST3, AU/AUv3, and AAX formats for Windows and Mac. It is on sale at Plugin Boutique at an introductory price of $39 USD until January 31st. The regular price if $49 USD.