Audio Imperia has announced the release of Klavier, the first instrument in a new "Private Stock Instruments" series.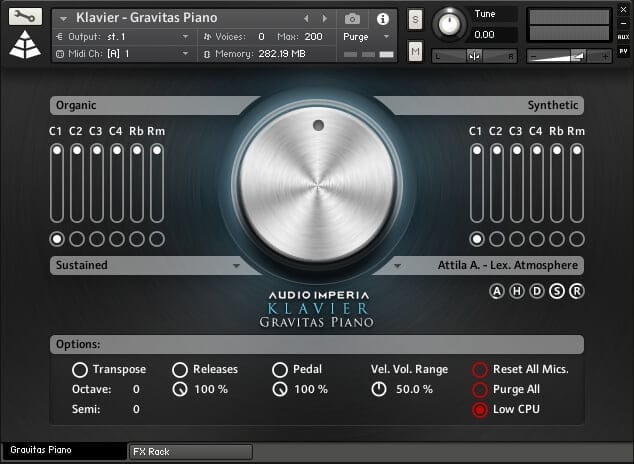 Originally intended as a private sample library for a group of trailer composers, the two instruments in this series combine the very best of the worlds of raw/organic recordings and post-production/sound design.

The goal throughout the whole project was to start with the user experience and the raw sound and to work our way backwards to a final product that is both versatile and instantly inspiring.
Klavier comes in two versions: Gravitas Piano and Red Planet Piano.
The Gravitas Piano was designed specifically for trailer music.
A piano that can cut through in a big and epic mix, yet still retain a lot of warmth and depth. To achieve this, we used a set of six stereo microphones and then combined these with their corresponding sound-designed ("Synthetic") counterparts in post production.

The Gravitas Piano comes with 35 "Synthetic" presets, made by some of the best producers in the trailer industry: Attila Ats, Bryan Leach, Danny Cocke, Jeremiah Pena, Joshua Crispin aka Generdyn and Paul Ortiz.
The Red Planet Piano was heavily inspired by the movie adaptation of Andy Weir's "The Martian".
Harry Gregson-Williams' score is absolutely amazing and inspired us to create an "outer space" version of the Klavier.

The Red Planet Piano shares the same organic sample pool used for the Gravitas Piano. But to get that particular "outer space" electric guitar sound, we created a number of complex guitar sounds. They are designed to match that lush and wide sound that you need to evoke that feeling of depth and space.
Klavier Gravitas Piano is available for purchase for the introductory price of $125 USD (regular $159 USD); the Red Planet Piano is on sale for $110 USD (regular $139 USD). A bundle of both is currently $199 USD (add both libraries to cart). Requires Kontakt 5.5.145 or higher, full version.
More information: Audio Imperia