Blue Cat Audio has released a free update for Blue Cat's Late Replies, the creative delay and multi effects plugin that is also capable of hosting third party plugins anywhere in the signal path.
Version 1.1 brings many graphical user interface enhancements such as full GUI zoom, new presets management features and major performance improvements. It also fixes a couple of issues on both Mac and Windows.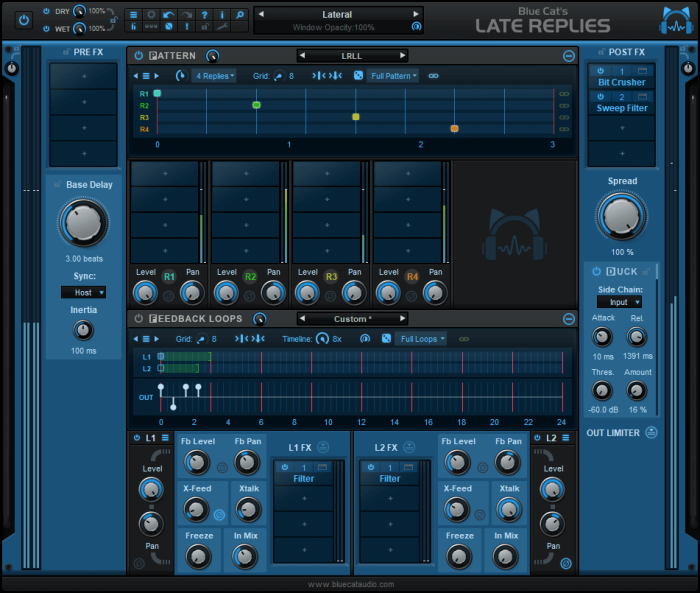 With its unique topology, the plug-in is a full-featured delay machine with unlimited powers: both the 8 taps pattern module and the two nested feedback loops include plug-in slots that can host built-in effects or third party plug-ins.

So it's not just about delays! The plug-in includes 25 built-in effects to further manipulate the delay lines: modulation effects, EQ and filters, dynamics processors, pitch and frequency shifters, wave shaper…
Changes in Late Replies v1.1
The GUI can now be zoomed from 70% to 200%.
Input and output effects strips can now be locked.
Last loaded preset is now remembered in session and displayed in the presets menu.
Plug-in state can now be reverted to the last loaded preset.
Default preset now also saves the state of locks (when using "save as user default").
Major presets loading improvements: hosted plug-ins are now reloaded only when changed, and updated otherwise. Improves performance and audio rendering when loading presets using the same plug-ins.
Faster GUI loading / instantaneous GUI display after it has been opened once.
Limiter on/off state is now independent from presets ("always locked").
New option to keep plug-ins windows always on top.
Performance and memory usage improvements.
Improved Pitch Shifter built-in plug-in (fixed aliasing artefacts and added new modes).
VST3: factory presets are not exposed to the host application anymore.
Fixed minor compatibility issues with Mac OS High Sierra.
Fixed: changing bypass in the Audio Unit version did not update host application's bypass state.
Fixed: bypass buttons are now in sync with the hosted plug-ins' state.
Mac: fixed presets directory not properly created for built-in plug-ins, breaking the save preset feature.
Win: fixed copy/paste that sometimes stopped working until next app restart.
Late Replies for Windows and Mac (VST/AU/AAX) is available for purchase for 99 EUR/USD instead of 129 EUR/USD until April 20th, 2018.
More information: Blue Cat Audio