Cinematique Instruments has announced the release of Viola da Gamba, a virtual instrument library for Native Instruments Kontakt which features the sounds of the historical instrument from the Renaissance and Baroque periods.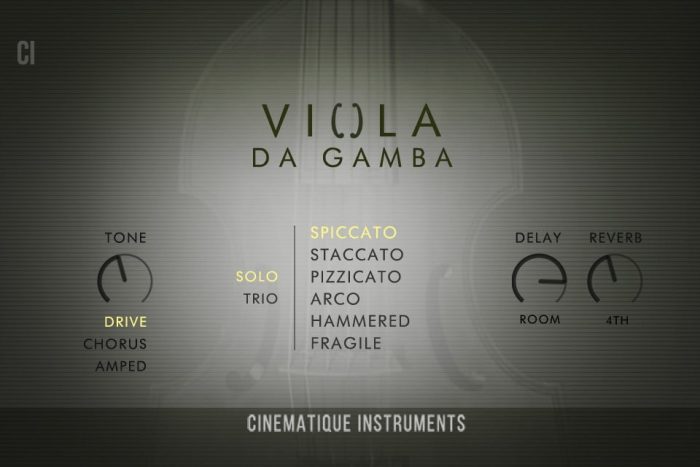 It belongs to the family of string instruments and was mainly built and used in Italy, France, Germany and England. Today the viola da gamba is mainly used in "early music", which is gaining more and more attention today.

It has 6 strings tuned in the typical baroque tuning of 415Hz. All strings are nylon strings. Due to this special mixture of strings the viola da gamba has its own character, which clearly differs from violin and cello. Especially because of the nylon strings the Viola da Gamba has its own unmistakable rough sound.
Viola Da Gamba features
An exciting mix of microphones – the velvety sound of the Schoeps mics, Neumann U87 as well as Coles 4038 ribbon.
6 articulations – beside arco, pizzicato, staccato, and spiccato, there are also unconventional articulationas like arco-fragile, textures and xylo-mallet-hits.
Extensive number of round robins – up to 16 with up to four dynamic layer the ability to play different amount of instruments all articualtions can be played either as solo viola da gamba or as an ensemble trio with trio with 3 instruments.
Additional fx – delay, chorus, amped and drive.
9 reverb types – beside several different sizes you get special types such as infinite and deep valley.
Viola da Gamba is available for 90 EUR. Requires Kontakt 5.6.8 or higher, full version.
More information: Cinematique Instruments