Denise has announced the release of Transient Booster, an audio effect plugin that gives you full control of your transients with a continuous peak-width dial.
Denise's goal is to create a brand-new range of plug-ins that are not only quick and simple-to-use, but also offer an incredibly powerful addition to your mixes. As well as the Saturator and the New York compressor, the Denise Transient Booster is the third plug-in in their first series of releases.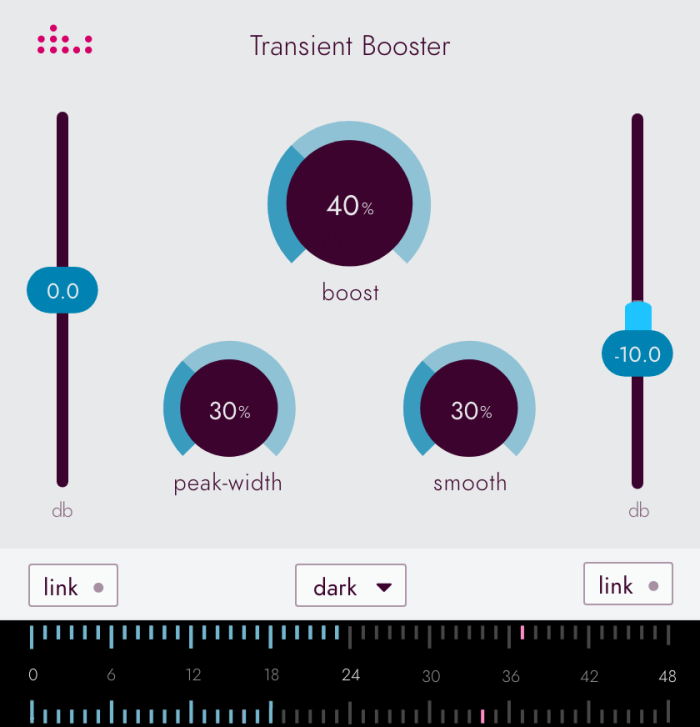 What makes the Transient Booster a great plug-in is the amount of control you have over your transients and the colour it adds to your sound. "The Transient Booster plugin is a very good plug-in, it brings out the high end bite." — Seven, DJ / Producer.

The plug-in can be used as a straightforward "one-knob" tool to bring to life drum-beats, percussion loops and synth stabs. However, the addition of the "peak-width" control lets you target all peaks between 0 – 100ms, as well as "smooth" out any artifacts in the case of more extreme use on bus-groups or full mixes. Together with its different timbre styles, a built-in limiter and stereo-link options, the Denise Transient Booster is versatile with a minimum drain on your CPU usage.

"We really like them [The Denise plug-in series] and are using the Saturator for some gentle distortion and the Transient Booster to work on kicks." — Illyus & Barrientos, Glasgow based house producers and DJ's.
The Transient Booster plugin (VST/VST3/AU) is available for 19 EUR. A free trial download of the plugin is available.
More information: Denise