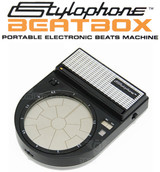 Dübreq has released the Stylophone Beatbox, a portable electronic beats machine.
The Stylophone pocket synthesizer steps into the future with the all retro classic instrument taking the next leap on the evolutionary ladder. The result is the rocking Stylophone Beatbox delivering the coolest sounds of the new millenium.

Stylophone Beatbox is the portable electronic beats machine that retains all the retro cool of its predecesor – however, the future is here with all new electro sounds including samples from the UK's beatbox champion MC Zani. Grab your nylon tracksuit, Adidas kicks, and whatever bling you can find and get ready to lay down some dope beatbox beats.

Features 3 all new exclusive sounds – beatbox with MC Zani, percusssion, and steel drums. Also new is the record and scratch functions that allow you to playback loops of your work. Another feature is the tempo adjust switch for beat pitch control during loop playback.

The MP3 input feature means it is also possible to syncopate your scratches along with your favourite tracks. Plug in your device and lay down some dope style to your favourites.
Stylophone Beatbox features
Three new sounds: Beatbox, Percussion and Steel Drums.
Record Loop and Playback function.
Tempo Adjust.
Volume control.
MP3 function – play along to any music – includes two way adapter.
Stylophone Beatbox is available for purchase for $25.50 USD.
More information: Stylophone Beatbox