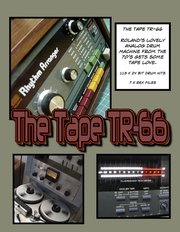 Goldbaby Productions has released The Tape TR-66, a free pack of samples of Roland's TR-66 Rhythm Arranger drum machine.
Now I know I posted about this before, but I figured it deserves its own post.
The Tape TR-66 features
113 x 24bit samples, 7 x REX files
Drum sounds recorded straight into the ULN-2, on a Hitachi D-E7 Cassette deck with Dolby C on (normal level and fully saturated), on the Ampex Valve 1/2 inch 2 track tape machine (normal level and fully saturated).
Multiple samples of each drum sound and these can be used with Round Robin to get a more analog feel.
Check Goldbaby's free stuff page for a link to download these and many other excellent samples.