inouï samples has released an update to the Your Colors advanced multi-channel sampler for Native Instruments Kontakt.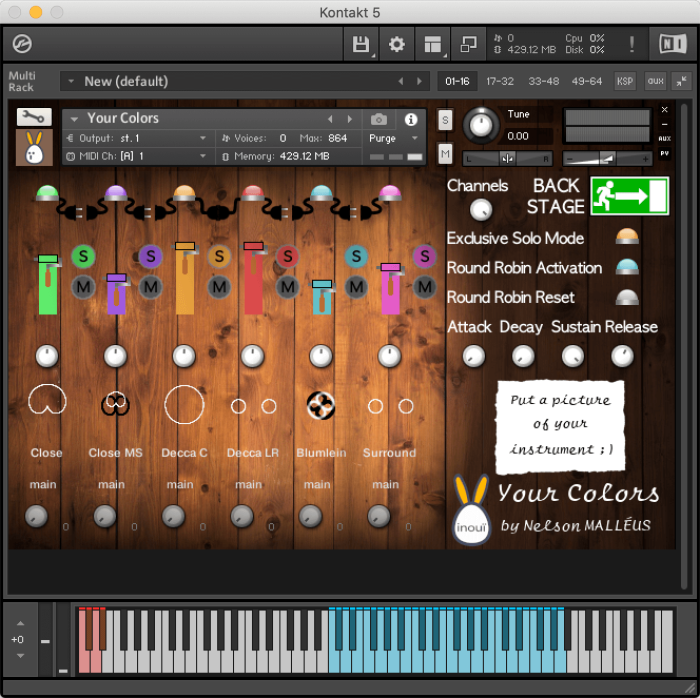 Are you recording instruments with multiple microphones? Do you need to build an instrument with several playing techniques and/or round robins but you do not have time to code it?

Based on an original idea of composer Romain Trouillet, Your Colors provides you a sampler to build advanced instruments simply and without typing any command line!
Changes in Your Color v1.1.0
Round robin improvements:

Increments are now made note by note and no longer globally.
3 round robin modes are now available: iterative, random (new), random without repetition (new).
A new option automatically resets the round robin after 1, 3 or 5 seconds without playing notes.

Display a file listing the different techniques that you use:

Manually rename each of these techniques.
Depending on whether you are using the keyswitches or the modulation wheel, the file will tell you the keyswitch corresponding to each technique or the central value of the MIDI CC1 range corresponding to each technique.

Addition of two lighter modules for decreased loading times when building small instruments (v1.0.1).
As Your Colors is a tool designed to meet the needs of composers and sound designers, inouï samples encourages you to tell them which features you would like to see added. If these features are selected, those who suggested them will get a 60% discount on Your Colors when they are implemented.
inouï samples has also announced a new bundle offer and the discontinuation of light versions and new custom light installations. Available now for 285 EUR instead of 660 EUR, the bundle allows those who already own inouï samples instruments not to buy them twice and future upgrades will be possible.
Furthermore, prices for all instruments will increase on April 30th, and the following products will be discontinued: Harmonic Triangles Lite, Stac & Slap Sax – The Baritone – Classic, and Stac & Slap Sax – The Baritone – FX.
More information: inouï samples