iZotope has launched the latest versions of its mastering and mixing audio plugins.
Ozone 8 comes with intelligent signal processing, spectral shaping, tonal balance control, track referencing, new look and feel, and more.
As the industry's most comprehensive mastering suite, Ozone 8 adds to its legacy by introducing new intelligent signal processing, in-app track referencing, Low-Latency IRC, Stereo Independence, and more.

Master your audio with over fifteen years of audio industry firsts at your fingertips. Enhanced to meet demands of the modern mastering workflow, Ozone 8 is your one stop for a competitive, professional master. With seven essential mastering processors, it's the smartest version of Ozone yet.
Ozone 8 features
Dial in the perfect tonal balance with the new Tonal Balance Control plug-in, which can access any instance of Ozone across all your tracks.
Communicate with Neutron 2 Advanced (sold separately) using the Tonal Balance Control plug-in for a seamless mixing and mastering workflow.
Tame problematic and harsh frequencies with the new Spectral Shaper module.
Quickly A/B track references right from any instance of Ozone or in its standalone application.
Twelve essential modern and vintage modules with component plug-ins: Spectral Shaper, EQ, Dynamic EQ, Post EQ, Maximizer (with IRC IV and new IRC Low Latency mode, Imager, Exciter, Dynamics, Vintage Limiter, Vintage Tape, Vintage EQ, Vintage Compressor.
Create a custom preset with Master Assistant and get your audio to an optimal starting point.
Have deeper control in Ozone's Maximizer with new low latency IRC mode, Transient/Sustain Stereo Independence, and Learn Threshold.
Apply any saturation mode (Warm, Retro, Tape, Tube, Triode or Dual Triode) to any individual frequency band in the Exciter.
Redesigned user interface for an even better mastering experience.
Neutron 2 helps you achieve a clear, well-balanced mix with its innovative new mixing and analysis tools.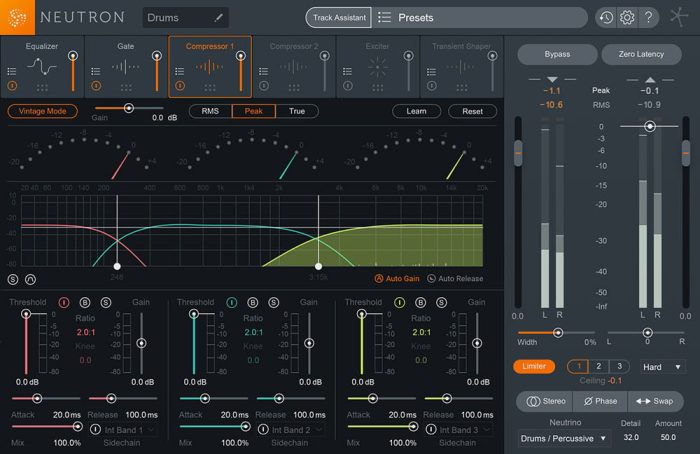 Control every aspect of your music, from the visual soundstage of your tracks to the tonal balance of your mix—all with iZotope's award-winning digital signal processing.
Neutron 2 features
Get to an optimal starting point in your mix with the improved Track Assistant.
Visualize your entire soundstage, controlling individual tracks including pan, width, and gain via the new Visual Mixer.
Includes 6 award-winning effects including Dynamic EQ with soft saturation, 2 Compressors, Gate, Transient Shaper, Exciter, and True Peak Limiter.
Get focus and clarity across all your tracks with Neutrino's Spectral Shaping, which automatically detects vocals, guitar, bass, piano, and drums.
Ships with 500+ professionally designed presets.
Now with redesigned user interface for improved workflow.
Also available is a bundle of the Advanced version of both tools at a discounted price.
The new Music Production Suite replaces the Music Production Bundle and now includes Neutron 2, Ozone 8 Advanced,as well as RX 6. The bundle includes a total of 34 plugins, with a value of over $1,900 USD in music production tools.
Music Production Suite features
Ozone 8 Advanced (with Tonal Balance Control).
Neutron 2 Advanced (with Tonal Balance Control).
RX 6 Standard.
VocalSynth.
Nectar 2 Production Suite.
Trash 2 Expanded.
Introductory prices (including upgrades and crossgrades) are available from Plugin Boutique until November 1st, 2017.
More information: Plugin Boutique / iZotope