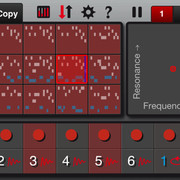 Jörg Piringer has released RealBeat, a sampler app for iOS that enables you to record sounds and create rhythms out of them.
Record your voice, your fridge, your neighbour's dog or let your iPhone or iPad speak and make rhythms out of the sounds immediately.

RealBeat concentrates on simplicity and fast results. No steep learning curve or cluttered screens! Get creative in an instant!
RealBeat features
Sampler (record sounds easily).
Text to Speech (let your device speak for you).
Modify the sound (pitch, reverse, distortion, reverb, …)
Sequencer (make rhythms).
Patterns (modify the rhythm easily).
Live effects (manipulate in realtime).
Mixer.
Export sounds to other apps via Audio Copy.
Export sounds to your computer via iTunes.
Works with internal microphone.
RealBeat for iOS 4.0 or higher is available to purchase for $1.99 USD.
More information: Jörg Piringer / RealBeat