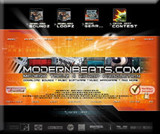 ModernBeats has announced the release of Ethnic Music Chopz, a 3 volume sample library featuring over 2,670 one-shot samples of rare ethnic instruments from around the world.
The sample library includes thousands of live performance samples of 30 rare ethnic instruments including hooks, riffs, and licks specially designed for modern urban and pop music production.

Each of the 30 ethnic/world instruments was recorded at 4 tempos (87 BPM, 92 BPM, 97 BPM, & 102 BPM) and in 4 key signatures (A minor, C minor, E minor, & G minor). A total of 120 software sampler presets are included that auto-load all 2,670+ ethnic samples into your favorite software sampler: Reason NN-XT (.SXT), EXS24 (.EXS), Kontakt (.NKI), Battery (.KIT), Halion (.FXP), Soundfont (.SF2), and/or WAV (.WAV).
Ethnic Music Chopz features
Ethnic Music Chopz V1

780+ Samples.
40 Presets.
10 World Instruments: Native American Flute, Bangladesh Dotara, Indian Jal Tarang, Indian Shehnai, Chinese Ruan, Indian Dilruba, Bulbul Tarang, Clabbers Perc, Tibetan Bowls, Indian Sitar.

Ethnic Music Chopz V2

840+ Samples.
40 Presets.
10 World Instruments: Arabian Rababah, Balinese Gobijen, Turkish Cumbus, Moroccan Gimbri, Greek Bouzouki, Arabian Mizmar, Aztec Slit-drum, Japanese Koto, Egyptian Ney, African Udu.

Ethnic Music Chopz V3

1,050+ Samples.
40 Presets.
10 World Instruments: Chinese Ghu Zheng, Indian Swarmandal, French Harmonium, English Bass Flute, Balian Alto Suling, Indian Tanpura, Irish Bouzouki, Talking Drums, Arabian Oud, Chinese Dizi.
Ethnic Music Chopz (Vol 1, 2, & 3) is offered as a download, priced at $39.95 each.
More information: ModernBeats / Ethnic Music Chopz