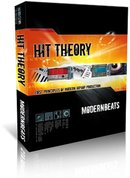 ModernBeats has released Hit Theory, an Ebook on urban and hip hop music production.
Providing the most powerful and comprehensive introduction into the world of hip hop production, 'Hit Theory' teaches aspiring producers exactly what compositional, music theory, phrasing, & production techniques are required to create #1 hits. Plus, 'Hit Theory' offers much needed guidance on what gear is best optimized to produce quality hip hop productions.
Hit Theory Ebook
Become a Hit Producer: Grasp the art of high quality recordings, cognizant of all necessary conditions required for solid recording; learn the importance of studio treatments, plus solutions for a less-than-ideal recording environment.
Know Your Gear: Learn exactly what to look for when buying gear; discover the meaning of equipment specifications; discern differences between recording consoles and interfaces, microphones, cabling and pre-amplification.
Music Theory: Understand how to apply modal scales to your compositions; learn musical dynamics and instrument emulation via keyboard and more.
Sampler Technique: Learn how to create your own custom producer workstation using samplers and keyboards; discover the studio secrets and workflows of platinum producers; learn to slice and dice samples and beats at a moment's notice – just like the pro's.
Hit Construction: Apply your knowledge of dynamics and theory to create complex, intelligent musical phrases; learn the basics of sequencing musical phrases into full arrangements.
Producer Mindset & Philosophy: Learn to fuel your creative fire & think like a composer; arm yourself with a rock solid work ethic; adopt the same producer mindset & philosophy owned by the top dawgs of hip hop.
Hit Theory provides more than 100 pages of on point music production technique packed with 36 illustrations & graphics, and over 20 audio examples for a total file size on 52MB.
Hit Theory is available for download and costs $29.95 USD.
Visit ModernBeats for more information and some chapter samples.