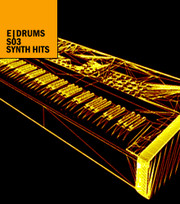 MrTheBigMan has released E|DRUMS S03, a free sample pack.
I used the Arturia Minimoog emulation to create all of he sounds and then recorded them through my preamp before effecting the sounds in Ableton Live.

I have also added all of the hits I used when making E|Loops XL01 to the pack as well because I hadn't released them and they are very nice indeed, made fully using the Microtonic drum synthesiser.
E|DRUMS S03 features
Synth Pack – 125 hits covering Kick, Snares and Percussion.
E|Loops Pack – 161 hits covering kicks through to Found Sounds.
Overall – 286 Hits @ 56.6mb.
The E|DRUMS S03 sample pack is a free download at MrTheBigMan.
More information: Multiples