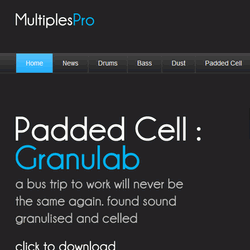 Jason Beggs has announced the launch of a new Multiples Pro website.
"I am very pleased to welcome to all to the all new Multiples Pro website "ushering in a new era of free sample library production".

After the first instalment of Multiples Pro we are back with a fully improved website, much more tightly integrated downloading and several brand new packs as below:

1. Dust : Arp2600
2. Sub Bass
3. EKicks Vol 2
4. Airfix : Modelled sounds
5. E|Loops X2
6. Padded Cell : Granulab

Along with these we have branched out into Reaktor design and are releasing for the first time the following instruments and effects:

1. MPBASIC – 3 OSC Synthesiser
2. MPED – Echo Delay
3. MPBC – Bit Crusher

All of this is fully free to download, to use and abuse as you see fit continuing Multiples Pro tradition of providing the best sample libraries and now Reaktor ensembles for free.
More information: Multiples Pro