Plugin Alliance has announced the release of the ENGL Amp Bundle, a collection of DSP-based amp simulations.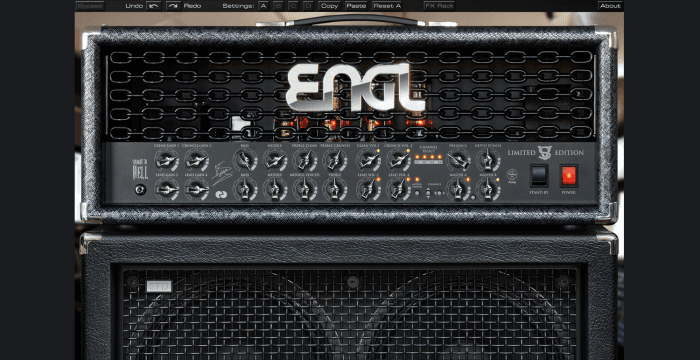 The Brainworx ENGL Amp Bundle brings to the native plugin world a quality of guitar amp emulation previously only available to users of DSP-based systems. Brainworx has built a reputation as the premier amp emulation company, and the ENGL models included in this bundle are a big reason why. Now, ENGL's legendary E765 Retro Tube and E646 Victor Smolski amplifiers are available in VST, Audio Units and AAX native formats!

Each amp model includes 64 recording chains, developed by Brainworx founder and rock producer, Dirk Ulrich. These feature three different ENGL cabinets recorded with up to 9 different high-end vintage and modern microphones through Brainworx's NEVE VXS72 console, and a stellar array of boutique outboard gear. The resulting tones, which would take tons of gear, time and expertise to achieve by traditional means, can be selected from a simple menu inside the plugin.

We even throw in the Brainworx bx_tuner so you can accurately tune your guitar before hitting that record button.
ENGL Amp Bundle V1 features
ENGL E646 VS Plugin — Authentic HIGH GAIN Metal Tones
This is the ENGL E646 – Victor Smolski Ltd, a true model of the Limited Edition ENGL head developed by the specialists at Brainworx. Four channels of pure tube attack power deliver the widest modern range of tones you can expect from an amp. While the E646 VS has a soul of pure metal, it's surprisingly versatile, delivering a wide range of tones.
ENGL E765 RT Plugin — Old School Vintage Tones to Modern Higher Gain Sounds
The ENGL E765 RT – Retro Tube 100 plugin from Brainworx is a true model of the original ENGL amp head. Plug in and you will be able to pull up the typical tones of the iconic guitar heroes who wrote the book on rock. With 2 channels and a total of 4 different gains, the ENGL E765 plugins offers a vast range of spine-tingling tones. Brainworx faithfully modeled every aspect of this amazing amp so every drop of ENGL's legendary sound is captured.
Brainworx bx_tuner — Tune up Quickly and Accurately, Then Hit Record!

Latency-free Tuner Plugin with Fine-tuning Display and Output Dim. Precise. Easy. Fast. Inserting this plugin tuner right into your DAW channel lets you tune your guitar or bass with maximum precision right before you hit the record button. A unique little feature like the Output Dim proves that Brainworx have managed to improve even such a basic every-day thing like a guitar tuner.
The ENG Amp Bundle is available for purchase for $229 USD.
More information: Plugin Alliance