Pornofonic Instruments has announced the release of the third in the Klusterkitt family of drum designers/kit builders for Native Instruments Kontakt.
Rezonator focuses on discrete sound treatments for electronic kits, building on the strengths of the previous two hybrid drum designers and kit builders, Konstruktor and Fabrikator.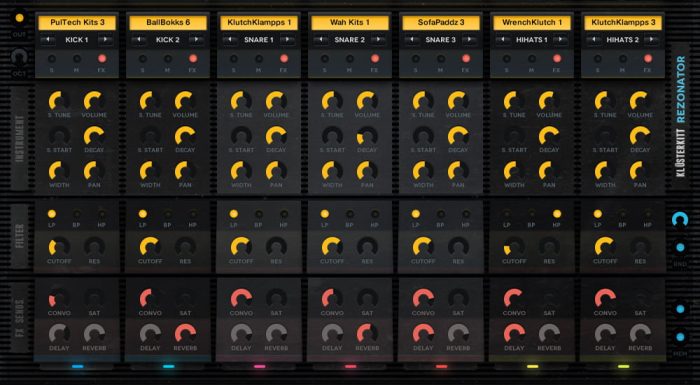 Keeping with the ethos of raw, unpolished percussive sound, Rezonator explores the beauty of contradiction between deep electronic kits and noisy cluster percussion, colored with convolution.
Focused electronic kit design is the foundation for a radically new kind of acoustic percussion palette. The simplicity of electronic drums paired with custom cluster instruments—organic, metal, and plastic hand percussion—designed to maximize mayhem and offer practically endless combinations.

Discrete sound treatments were used to produce 122 multi-sampled synthetic drum instruments, including pultech filter, tape profile, tube/valve, and wah pedal, and 250 multi-sampled percussion instruments, including custom shakers, rattles, clackers, clappers, drums, ankle bells…and noise sources never seen or heard before.

A total of almost 400 convolution impulses include vinyl/radio/tape/digital noise and static, particulate and granular effects, digital and acoustic sound effects, frequency modeling, mic effects and chorusing, stereo imaging, and new, pitch-based impulses for adding harmonic interest to rhythms.

With Rezonator's totally new sample content, the aim was to pair strong electronic drum sounds with noisy, messy hand percussion, shaped and augmented with convolution impulses. The rhythmic possibilities explode: beats infused with ordered noise jump out of the speakers; delicious rattles and soul-stirring syncopations shake up stale rhythms and give them new dimension.

Packed with this kit builder are 54 essential kits, ranging from big, deep house/downtempo kits to dirty, hyperactive electronic/tribal kits. Now with multi-out capability. Get crazy.
Regularly $49 USD, Rezonator is available at a 30% intro discount until April 30th, 2019. A bundle of all three Klusterkitt libraries is also 30% off during the promotion.
More information: Pornofonic Instruments