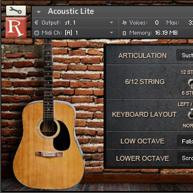 RealiTone has introduced Acoustic Lite, a virtual acoustic guitar instrument for Native Instruments Kontakt.
We first recorded this guitar as part of our "Sampleholics Guitars for Stylus RMX." We got so many requests to release a Kontakt version of the acoustic, that we had to do it. But first, we added more features. More sounds. All with a nice small footprint.

Now, we could have sampled gigabyte after gigabyte, 10 round robins, 10 velocities . . . that's a lot of work! Which means we'd have to charge you top dollar for that. Plus you'd have the bigger RAM hit, along with long load times that go with it.

Instead, we focused on what's actually important. The sound. We got the sound we want with few articulations and a couple round robins and we have what we believe is an instrument you can use on 90% of your acoustic guitar tracks.
Acoustic Lite features
Sampled Takamine acoustic guitar.
Includes straight sustain notes, as well as palm mutes, and a combined version of these as a third articulation.
Recorded major and minor chord strums, both up and down.
Includes 12 String guitar (layering of 6-String samples).
Map the entire guitar range onto the keyboard at once or use a "Left/Right" mapping (main 3 octaves of the guitar repeated on two different sections of your keyboard with alternate samples).
Effects include falls, chucks and scrapes.
Keyswitches allow you to change articulations at will.
Acoustic Lite is available to purchase for the introductory price of $20 USD. Requires Kontakt 4+ full retail version.
More information: RealiTone / Acoustic Lite