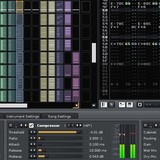 Multi-platform music production software Renoise was updated to version 2.6.1.
With Renoise you create loops, beats and melodies efficiently step-by-step. It's a complete, expandable Digital Audio Workstation (DAW) with a refreshing twist. Renoise is affordable, yet no corners have been cut in regard to features.
Changes in Renoise v2.6.1
Autoseek with multiple note columns didn't always work.
Renoise saved some 24-bit FLAC files wrong on Linux x64_64 – applies to 64-bit versions only.
Demo versions nag screen nagged demo version users way to early.
Mac OS X demo versions did not include the scripting API documentation and MIDI/OSC scripts.
A few other Lua API related fixes.
Renoise for Linux, Mac, and Windows is available to purchase for 58 EUR (excl. VAT).
More information: Renoise