Overloud has launched a sale on TH3 Funk and R&B, an effect plugin that includes everything you need to create incredible Funk and R&B tones, from the timeless Rhythm & Blues to the '70s Disco and '80s Funk style.
The plugin offers realistic guitar amp models, guitar cabinets, inspiring effects, and 80 presets which recreate famous Funk and R&B song tones.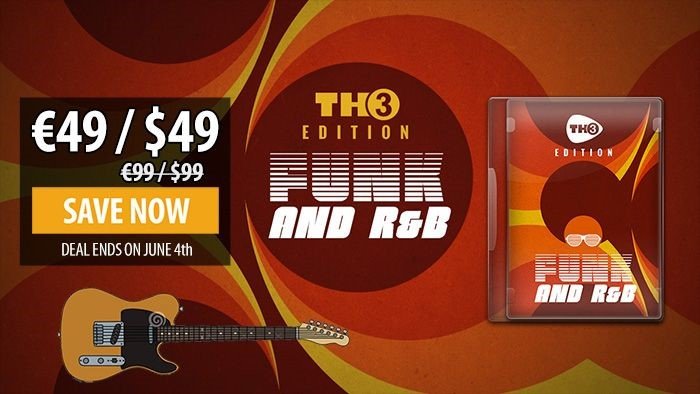 TH3 Funk and R&B includes 80 presets designed to deliver High-Funktioning with just one click. Browse an assortment of creative, unique presets which recreates famous Funk and R&B song tones.

From pristine clean rhythmic parts, to psychedelic groves and blues solo parts! Each module has been meticulously tweaked to give players complete control over their tone.
TH3 Funk and R&B features
DVmark and Brunetti authorized modeling, with models approved by original manufacturers.
12 guitar amplifiers selected for Funk and R&B.
12 guitar cabinets selected for Funk and R&B.
16 pedal and rack effects.
18 microphone models, with up to four mics on each cabinet.
4th generation analog emulation technology, with proprietary nonlinear processing algorithm.
3D, gap-less positioning of microphones and room simulation.
Advanced cabinet emulations with ReSPiRe 2 technology.
Easy to build or modify your own signal path.
Intelligent MIDI controls.
Chromatic Tuner.
BREVERB and SpringAge based reverb effects.
TH3 Funk and R&B is on sale for only 49 USD/EUR until June 4th.
More information: Overloud