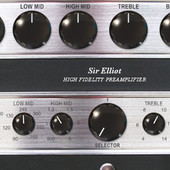 Sir Elliot has released the 1968 High Fidelity Preamplifier, a free effect plugin for Windows.
The 1968 was designed bring forth a rich tone in your music material. Like the RT-1, tonal characteristics are prevailing upon enabling the power switch.

Sporting a twenty-step tone selector, in addition to, optimised for high sample rate circuitry, you will find the 1968 will present a lot of choices on how to custom tailor the sound to your musical taste.
1968 features
Frequency Response 20 – 20,000 kHz +/- 3 dB.
Frequency Bandwidth 20 – 192,000 kHz +/- 3 dB.
Note: Frequency Bandwidth is based on 384 kHz Sample Rate. To take full advantage of the audio quality, 88.2 kHz and above sample rates is highly recommended.
1968 for Windows (VST) is available as a free download.
More information: Sir Elliot