Sonible has introduced its new EQ+ series at the Tonmeistertagung convention, taking place in Cologne on November 17th-20th, 2016.
The series comprises three linear-phase equalizer plugins: smart:EQ+, proximity:EQ+ and entropy:EQ+, each having their own special features that far exceed conventional equalizing technologies.
With its new EQ+ series, Sonible is taking the next big step in its product evolution. The startup has made it their goal to combine creative engineering with the innovative potential of the digital domain. The equalizer plug-ins in this series can handle audio information that, up to now, could only be partly grasped, making it possible to modify audio material in completely new and unbelievably deep ways.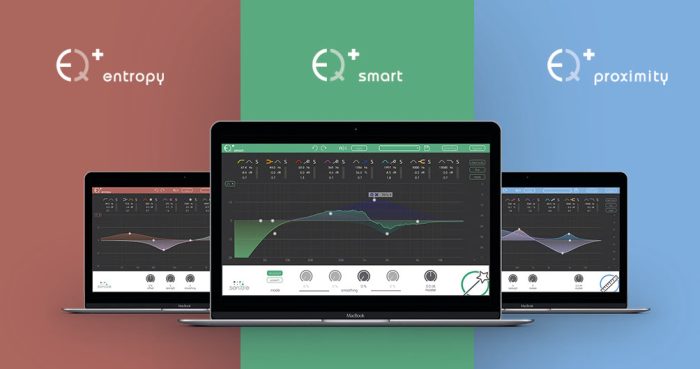 Mix | Create | Repair – From Broadcasting to Sound Design
The three linear-phase equalizers of the EQ+ series are made, on the one hand, for fast, uncomplicated corrections on-the-go, as needed in broadcasting, for example. On the other hand, the high quality EQ plug-ins can also be used with surgical precision during rendering, mastering, and postproduction. The extraordinary functionality of the EQ+ series opens new doors to more creative possibilities in music production and sound design.
The core of the three revolutionary equalizer concepts is also available within sonible's frei:raum plug-in, which international media outlets, like Bonedo, Studio Magazine, ask.audio, and Sound on Sound have already gotten excited about. In the EQ+ series, these plug-ins are now packaged in a budget-friendly way, with even more new features. This has a few advantages: the EQ+ series increases flexibility, saves hard drive space, and allows the three specialized tools to be used even more precisely.

smart:EQ+ | Perfect Spectral Balance
The smart:EQ+ is the ideal partner because of its ability to learn; this makes it reliable, especially when sound editing on a deadline. As a self-learning equalizer, the smart:EQ+ has intelligent filters that know how to automatically analyze the existing audio material, identify spectral imbalances, and suggest a custom-made filter curve within seconds. Used the other way around, it can strengthen and highlight the individual character of particular instruments. The smart:EQ+ can be used in either speech or music mode.

proximity:EQ+ | Optimize Natural Spaciousness
The proximity:EQ+, which can be used for every frequency range, distinguishes between direct sound and echoes. So the room acoustics can be seamlessly manipulated, even after recording is complete. Make sounds more precise, or move them to the background. Less-than-ideal room acoustics can be balanced even in the existing recording. The proximity:EQ+ is not only a practical tool for sound editing, it is a powerful plug-in for every sound designer.

entropy:EQ+ | Clear Enunciation
The entropy:EQ+ is a plug-in that can tell the difference between harmonic and inharmonic sound portions. This makes the postproduction of transients significantly easier. Frequency-selective manipulation makes it possible to selectively edit the strokes of individual instruments within one track. Not just for complex instrumental tracks, the entropy:EQ+ is also a practical tool for working with human voices. Noisy consonants can be raised in an instant, improving the intelligibility of speech, whether for vocal recordings or an interview.
The EQ+ series plugins for Windows and Mac (VST/AU/AAX) are available for purchase for 129 EUR each.
More information: Sonible