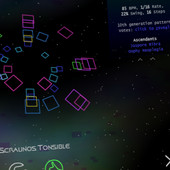 Sonic Charge has announced the first anniversary of the Patternarium, the online pattern generator for µTonic.
Everyone's favorite interstellar beat mutator has turned one year old today! Happy birthday Patternarium!

To celebrate this we have begun publishing charts with the best and worst for every Patternarium generation.

The charts are published on our forum, including zip-packages with the actual .mtpreset files.
The charts and downloads are available to authorized Sonic Charge customers.
More information: Sonic Charge