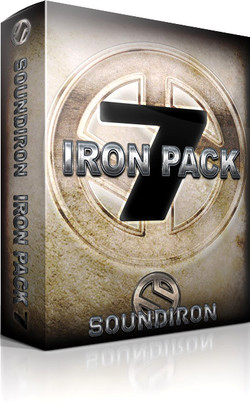 Soundiron has announced the release of Iron Pack #7, a sample library featuring content in Soundiron's Voice Of Rapture: The Soprano performance and chromatic multi-sample library.
This new Iron Pack and both The Soprano and the Tenor are on sale now for a limited time only. We've also got a great interview with media composer Jeff Broadbent. Jeff has scored extensively for TV, video games and film, including Tom Clancy's Endwar (Ubisoft), Planetside 2 (Sony) and a personal favorite of ours, Ancient Aliens (History Channel)!

Iron Pack 7 features 11 unique ambient pads and atmospheres sound designed by our own Spencer Nunamaker (JunoVHS), using raw source recordings from our premier solo soprano library, featuring Nichole Dechaine. There are also two acoustic vocal presets, with playable chromatic Ah vowel sustains and live phrases Each preset includes a variety of sound shaping controls, time-stretching, reverb/FX impulses and more. Check out Spencer's video walk-through.

You'll find regular unlocked nki presets for the full version of Kontakt 4 or 5, as well as open source SFZ presets, for non Kontakt users. The SFZ presets can be used in the free Sforzando Player, the free Alchemy Player by Camel Audio and many other compatible engines.
The Iron Pack is available for $3.99 USD through July 16th, 2014. Requires the full version of Kontakt 4.2.4 or later or an SFZ 2.0 compatible engine.
Voice Of Rapture: The Soprano is also on sale. The library costs $99 USD through July 16th, 2014 ($40 discount).