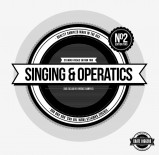 Sounds To Sample has released Cylinder Vocals: Singing & Operatics, a new sample pack by Crate Diggers.
Sterling follow-up to the Crate Diggers debut, this Singing & Operatics edition moves into scratchy melodic territory with 240+ sung one-shots featuring choirs, quartets, musical toplines, and soprano and tenor operatics: all laden with (very) old school flavours.

Crate Diggers is about two things: originality and authenticity, serving up royalty-free spoken word clips sourced from over 5,000 rare cylinder recordings from the early 1900s. Pre tape, pre vinyl, and pre gramophone, cylinders were the original recording medium created by Thomas Edison.

This pack takes off where Volume 1 left off, with melodic vocal lines – both solo and layered – that will find fans among producers in need of authentic vinyl-inspired vox, irrespective of genre.
Cylinder Vocals: Singing & Operatics features
280+MB of original samples are provided (246 x 24-bit Wav), with folders for Chorus, Musical Men, Musical Women, Quartet, Religious, Soprano, French, German, and Tenor.
Over 5,500 cylinder recordings were reviewed during the making of this unique and original set of material. The Cylinders were transferred with a French-made Archeophone, using custom Shure styli from Expert Stylus in England.
The audio was captured into the digital domain using a CEDAR ADA at 44.1KHz with a bit depth of 24 bits in Steinberg's Wavelab software.
Files were edited, normalized and processed using CEDAR's Series X, Declicker, Decrackler, Dehisser, and Debuzzer units.
The quality of the original cylinders varies widely, depending on the type, the condition and even the quality of the original recording.
Cylinder Vocals: Singing & Operatics is available to purchase for €17.95 EUR.
More information: Sounds To Sample