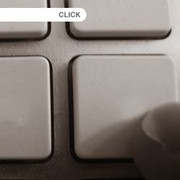 Tonehammer has announced the release of Click, a new sample library for Kontakt.
Click is the sound of tiny, little things. It is the tick and the tock, but not the clock. The little clack, the sound of rock. Click is the embryonic state of all sound and we want you invite you back to the womb.

Tonehammer "Click" is the most comprehensive sample library done of ultra tiny object sounds. Click contains several thousand samples of anything from buttons to bowling toys, wooden branches to eating chips, boiling frying pans to human hoses, nail files to pocket watches, sand-drums to styrofoam, teeth clacks to water bubbles etc. The concept may seem strange at first, but these sounds have remarkable value in terms of composition and music, since the "click" covers a very specific sound and frequency spectrum.

Click is the opposite of epic, yet big in its own way.
Click features
Articulation list: Abacus (Counting Rack), Air Hammer, Bathtub, Belt, Bowling Toys (Camel, Cup, Train), Breaking Small Branches, Button (12 different button types), Bubbles (4 different types), Bubble-Wrap, Chair, Chip Eater, Clap Solo, Clean Up, Clicky Toy, Clock Radio, Coins, Cups, Digital Camera, Dropping items (Bottle, Cup, Egg, Toy), Egg, Ensemble Snaps, Finger Nails, Frying Pan (Hot Oil vs Water), Human Hose, Kissing, Marbles, Marker, Matches, Music Box (modified), Nail File, Paper (Cut, Fold, Tear, Turn), Pencil, Pixel Kit, Plastic Box, Plastic Cups, Pocket Watch, Radio Kit, Random Kit (17 different tapped furniture), Sand Drums, Screw Container (14 different screws), Shaving, Shelf Bracket, Shower Door / Glass , Stop Watch, Styrofoam, Suitcase Locks, Tape Measure, Teeth Clack, Water Bubble, drop and spoons, Wine drums, Wobbly Bowl, Zippo, Zipper.
5.200 samples (44.1Khz/24Bit mono- and stereo .wav format), 764 MB installed, 482 MB .rar download
256 Kontakt patches (.nki)
Intelligent editing and programming (off-set, pitch key-switching and time-stretch control), Extensive read me install, patch and hint documentation (.pdf)
Interview with Troels & Mike about the creation of "Click" (.mp3)
Bonus: 11 custom ambiences
Bonus: Custom Stereo Convolution Reverb Impulses, captured in 5 different locations
Click is available for the introductory price of $59 USD until August 24, 2009 (regular price $79 USD).
More information: Tonehammer