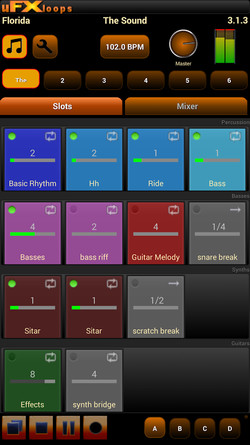 ufxmedia has released version 1.20 of uFXloops, a free music studio app for Android.
I hope you enjoy Version 1.20 – as this is the base release for automation and effects, you can be assured that both features will be extended in the near future (e.g. by having chorus, flanger and phaser effects soon).

Further please note, that with a premium account you also benefit from the improved effect quality at 44.1Khz, though it will cost double performance of course.
Changes in uFXloops v1.20
Effects (Master Reverb, Filters, Delay Lines).
Automation on Volume and Balance for individual slot Samples.
A Shuffle Mode for the whole part or for a single pattern.
An improved mixer allowing you to adjust effect send level for each slot.
Improved Pattern Editors with Toolbars to Copy/Paste.
You can overlay patterns when loading them.
You can build sequenced Slots.
A new Demo is contained, which is called 'Living on Mars'.
More Pitch Control for Percussive Notes in the instrument edit.
Adjustment of StartPosition and end Position in Sample.
Reverse Function for Samples.
and a lot of usability improvements like the new slotmix overlay whilst live playing.
The app is available for download from the Google Play store.
More information: uFXloops