Splice has announced the newly released V Collection 8 is now available from its Rent-to-Own platform.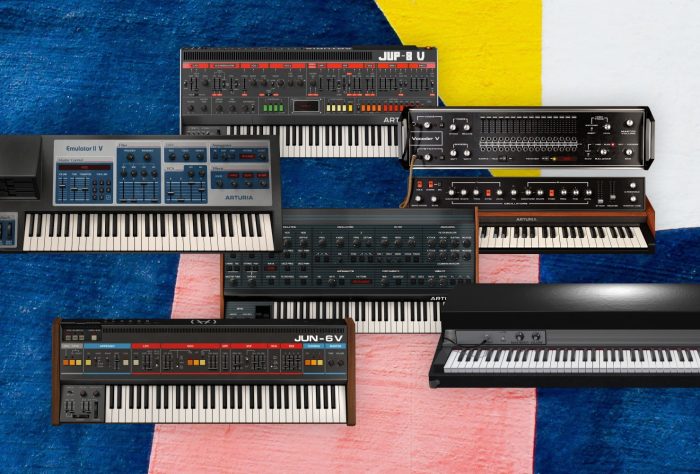 V Collection 8 puts some of the most influential instruments at your fingertips with circuit-accurate recreations of iconic synthesizers, string machines, electric pianos and organs.
Explore the timeless timbres of yesterday and craft the sounds of the future.

Arturia's V Collection 8 contains 28 instruments, including 4 new titles: Jun-6 V, Emulator II V, Vocoder V, and OB-Xa V, and an updated Jup-8 V and Stage-73 V.
V Collection 8 features
Includes 28 software titles: Emulator II V, Vocoder V, Jun-6 V, OB-Xa V, Mellotron V, Synthi V, CZ V, Analog Lab V, Clavinet V, CMI V, DX7 V, Buchla Easel V, Synclavier V, B-3 V, Mini V, Piano V, Stage-73 V, Matrix-12 V, Farfisa V, Solina V, SEM V, Wurli V, Jup-8 V, ARP 2600 V, CS-80 V, Prophet V, VOX Continental V, Modular V.
More than 10,000 high-quality and innovative sound presets.
With Analog Lab V, all presets of the V Collection 8 can be browsed and edited from a single interface.
All instruments share a common interface for browsing and editing (save, import, export, etc.).
New in-app tutorials allow you to quickly understand the instruments.
High resolution graphic interfaces, compatible with very large displays.
Easy MIDI mapping to any keyboard controller.
Arturia's proprietary technologies, TAE® and Phi®, ensure that each instrument sounds and behaves exactly like the original.
V Collection 8 is available for $24.99 USD/month and you can try it free for 3 days.
More information: Splice