Waves Audio has introduced three new plugins at the AES 2016 Convention in Los Angeles (booth 721).
First up is the Waves Abbey Road Vinyl plugin, a precise model of Abbey Road Studios' vinyl cutting and mastering gear, offering the vintage warmth of vinyl records played on classic turntables and needles.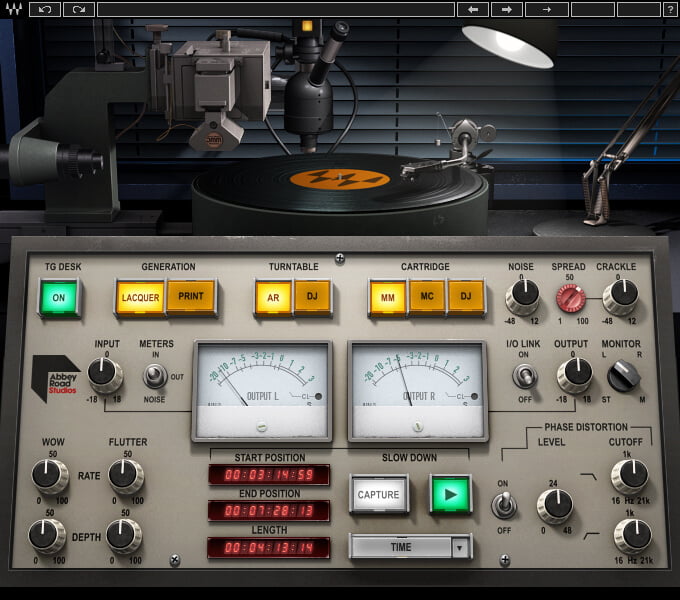 There are few things in music that capture the emotion of diehard fans more than vinyl. The retro feel of a record, combined with the analog warmth of its sound, makes vinyl a beautiful nostalgic statement. Designed in collaboration with Abbey Road Studios, this plugin faithfully captures every stage of the vinyl production and playback process: you can choose between the sound of a pure acetate (lacquer) cut or the print master vinyl pressing from the factory; play the records on two distinct turntable types with a choice of three classic cartridges; and even add the TG12410 mastering console on the path into the vinyl lathe.

For added authenticity and creativity, Abbey Road Vinyl even lets you move the location of the tone arm across the record, changing the frequency response and distortion like in the real world. You can also add vinyl noise and crackle, apply a gradual slow-down/stop turntable effect, and add wow and flutter effects for extra analog warmth.

Abbey Road Vinyl is the long-awaited tool for diverse audio users: from mixing engineers craving a distinct smooth sound, to EDM and hip hop artists who cherish that "needle" touch, to sound designers reaching for authentic vinyl qualities and producers seeking a true-to-vinyl dimension on their tracks.
Waves Abbey Road Vinyl features
Add authentic vintage vinyl sound to your tracks.
Precise model of the classic vinyl mastering gear at Abbey Road Studios.
Choose between a pure acetate cut or the print master pressing from the factory, played back on different turntables and needles.
Add noise and crackle.
Control tone arm location for variable frequency response/distortion.
Add wow and flutter.
Control and shape phase distortion.
Apply slow-down/stop turntable mechanism.
The Waves Greg Wells ToneCentric plugin, a richly musical harmonic enhancer that adds fatness and presence to individual tracks or entire mixes, in the studio or live.
The plugin is part of the Waves Signature Series, and was created in collaboration with multiple GRAMMY®-nominated producer, musician and mixing engineer Greg Wells (Adele, Katy Perry, OneRepublic), who has songs on over 85 million units sold.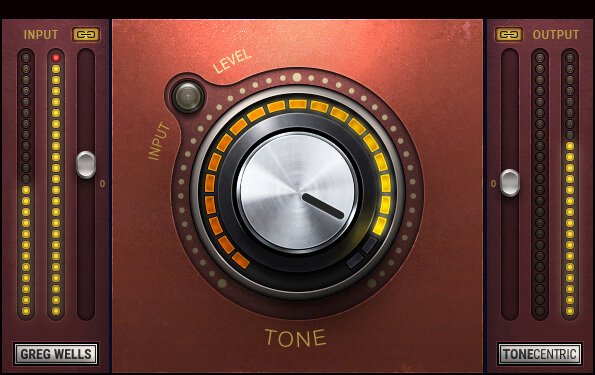 Greg Wells remarked, on his vision for the plugin, "I'm always on the hunt for ways to pull more music out of the speakers. You get a beautiful effect when you run audio through healthy vacuum tubes and big transistors wound the right way, and record it to a great tape machine. This plugin is an homage to the great analog gear that leaves a wonderful sonic footprint on your sound."

He elaborates, "There are certain pieces of gear in my studio that consistently do this for me without fail: a holy grail 1950s mono tube compressor, a tape machine, a custom-made vacuum tube console. Several plugins do a great job pointing in this direction, but sometimes I find the high end suffers. In developing ToneCentric, it was important to me to keep things sonically quite full overall, but with an added depth of field. As with all the plugins in my Signature Series, there is an enormous amount going on behind the simplicity of the single-knob interface. Different settings on the knob will yield different results, and I encourage you to experiment with subtle to mid to drastic levels. Here's to more tone-filled music! I hope you like it as much as I do."
Waves Greg Wells ToneCentric plugin features
Harmonic enhancement plugin.
Created with producer, songwriter & mixing engineer Greg Wells (Adele, Katy Perry, OneRepublic, Mika, Twenty One Pilots).
For use in the studio or live.
User-friendly single-knob control.
Waves has also introduced the Waves Primary Source Expander (PSE), a plugin that can automatically reduce microphone gain levels between musical phrases and enjoy more gain before feedback and reduced stage noise without affecting your source's original tone. This plugin is designed for live sound and for mixing live recordings.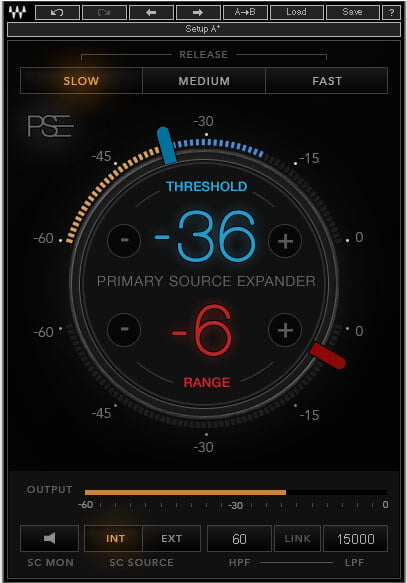 Whether you are mixing live at the venue or working on a live recording in the studio, Waves Primary Source Expander will help you raise the levels of vocal and instrument mics without creating feedback, without amplifying extraneous background noise – and without losing the natural ambience of your location.

At the heart of this plugin is a precision expander, tailored especially for melodic sources such as vocals, guitars, strings, brass, woodwinds and more. PSE works like a fader that smoothly attenuates the channel's level when the source goes below a certain threshold. You determine both the threshold and the amount of attenuation.

With just a few simple controls, PSE is a highly effective tool that you can, for the most part, set and forget, ensuring that you mics are as loud and noise-free as they can be.
Waves Primary Source Expander features
Reduces feedback and stage or background noise.
Smoothly attenuates levels when source drops below user-defined threshold.
User-friendly GUI for quick operation – set and forget.
Internal and external sidechain with HP/LP filters.
Ability to control release time.
Availability and pricing TBA.
More information: Waves Audio