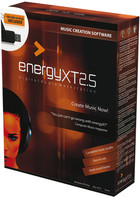 XT Software has released version 2.5.2 of energyXT, a digital audio workstation for Windows, Mac and Linux.
Designed from the ground up with songwriters and musicians in mind, energyXT let's you record, edit and mix your music with powerful, yet easy to use DAW features. Creating music on your computer has never been easier, faster and more fun.
Changes in energyXT v2.5.2
Live markers in sequencer for live remixing and recording.
Preview of REX and XTC files in browser.
Step recording of notes and drum events.
Drag & drop replace and re-arrange of samples in drum editor.
Main transport bar is now skinnable with PNG-files.
Auto-update to latest version (final and/or beta versions).
You can now re-arrange tracks by drag & drop.
energyXT is available to purchase for 49 EUR. A demo version can be downloaded from the XT Software website.
More information: XT Software