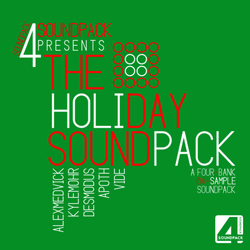 DJ Tech Tools has launched the S4S Holiday Soundpack, a free collection of samples from Soundpack 4 Soundpack.
This week in lieu of my normal Monday soundpack we have something very special to help you celebrate the Holiday season!

We joined forces with the rest of the Soundpack 4 Soundpack crew (Desmodus, Apoth & Vide) to bring you a special four bank (64+ Samples) Holiday themed soundpack. It's full of rich sound, funny quotes and amazing playability for instant fun! Celebrate the Holidays this year with your friends at Soundpack 4 Soundpack.

Happy Holidays!
-Kyle Mohr & The Soundpack 4 Soundpack Crew (Alex Medvick, Desmodus, Apoth and Vide)
The pack is a free download.
More information: DJ Tech Tools