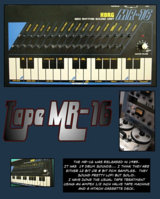 Goldbaby Productions has released the Tape MR-16, a free pack of samples from the Korg MR-16 MIDI Rhythm Sound Unit.
Hugo writes:
It's been a while since I gave a sample pack away. So here you go… the Tape MR-16.

The MR-16 was Released in 1985. It has 19 drum sounds… I think they are either 12 bit or 8 bit PCM samples (not sure). They sound pretty LoFi but solid. I have done the usual tape treatment using an Ampex 1/2 inch valve tape machine and A Hitachi Cassette deck.
The Tape MR-16 is available for download here.
Also make sure to get your copy of any Goldbaby product today for a change to win that MBase 01. There's only one week left in this giveaway.
Check Goldbaby Productions for more information.