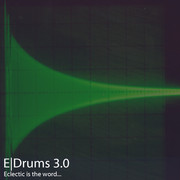 MTBM.NET has released E|Drums 3.0, a new free drum sample library by Multiples.
We are proud to announce the third incarnation of our flagship drum series E|Drums, is now available to download fully for free.

Eclectic is the word for this pack as we have trawled through our collection of outboard gear as well as software effects to provide you with a cutting edge samplepack that will fit into any genre of music.
E|Drums 3.0 features
Synthesised – Samples covering Kick, Snares and Hats created using MDrummer, KickMaker and Reaktor to synthesise the sounds.
Alesis Performance Pad – This is the main output of the pack and the hardware the samples were built from. The Performance Pad was routed through a Line 6 POD and ModPro pedal to provide the phattest samples. They were then processed with Frohmage, Roughrider and Guitar Rig to create the most eclectic and weird sample set.
Loops – These were all of the above samples rinsed through the Reaktor ensembles Massive and GoBox. Reaktor sample maps are also provided within the downloads to allow you to add them to your own devices in Reaktor.
Note: for those who do not have access to Kontakt 4.2+, the patches included with this download use the Drum Computer script within Kontakt to create loops playable from c3-b3. All of these were sampled and added to the loop download.
E|Drums 3.0 is available as a free download.
More information: MrTheBigMan