Native Instruments has announced Komplete 13, the latest generation of its flagship production suite, with new additions including some of the company's biggest releases from the last two years.
The launch will coincide with that of Guitar Rig 6 Pro, a revamped version of NI's amp and effects modelling lab.
For 17 years, Komplete has brought the very best from Native Instruments into a comprehensive production package for artists of every level and genre. Komplete 13 is the biggest collection yet, and is available in four sizes; SELECT, Komplete 13, Ultimate, and Collector's Edition.
The latest generation sees some of Native Instrument's biggest new releases join the lineup, including Guitar Rig 6 Pro, Cremona Quartet (including Stradivari Violin), Arkhis, Pharlight, Straylight, Mysteria, Super 8, Session Guitarist – Electric Sunburst Deluxe, and Noire.
There are four new additions to the Kontakt Play Series – Butch Vig Drums, Lo-Fi Glow, Modular Icons, and Cloud Supply.
The latest version also includes the Crush Pack, which puts a modern spin on distortion effects, as well as last year's much-loved RAUM reverb.
Each bundle provides up to 90% off the price of the individual products, and as always, existing Komplete users also have the option to save when they upgrade or update from their current version.
Guitar Rig 6 Pro returns with an overhauled interface, new amps, new effects, and Intelligent Circuit Modelling – a new machine-learning modelling technology that can bring even deeper realism to hardware emulations.
The technology has already been used to create a new series of iconic boutique and vintage amps, each offering plenty of character and tone to be explored. Users will also be able to pitch in and help decide what kind of hardware should be modeled for future updates.
The latest version also extends the platform's capacity as a powerful effects rack for any audio source with 14 new additions from Native's wider ecosystem – including Reverb Classics, Vintage Compressors, Crush Pack, Mod Pack, Solid Mix Series, Transient Master, Raum, Rammfire, and Traktor's 12.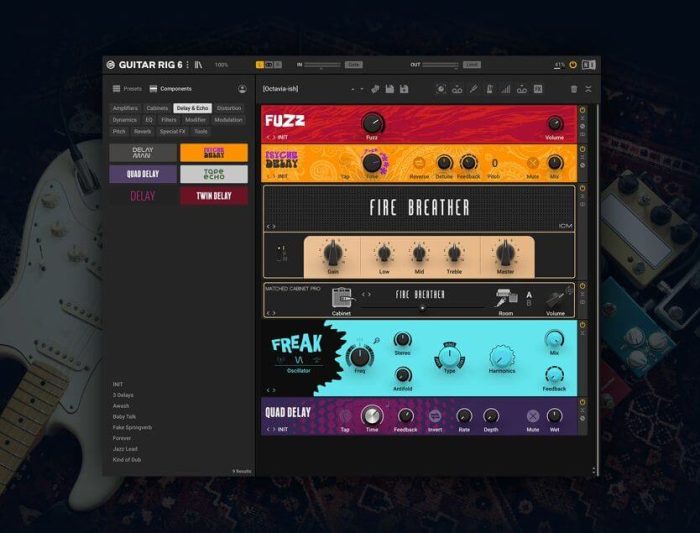 Guitar Rig 6 Pro comes loaded with an inspirational collection of presets from a variety of heavy-hitting guitarists, bassists, producers, and songwriters including Yvette Young, Tim Lefebvre, Pete Thorn, Zola Jesus, and Butch Vig, along with many more to come with future updates.
Komplete 13 and Guitar Rig 6 Pro will be available on October 1st, 2020, at the following pricing:
Komplete 13 Select: 199 USD/EUR, 169 GBP.
Komplete 13: 599 USD/EUR, 499 GBP.
Komplete 13 Ultimate: 1,199 USD/EUR, 999 GBP.
Komplete 13 Ultimate Collector's Edition: 1,599 USD/EUR, 1,349 GBP.
Guitar Rig 6 Pro Full version: 199 USD/EUR, 179 GBP.
Guitar Rig 6 Pro Upgrade: 149 USD/EUR, 129 GBP.
Guitar Rig 6 Pro Update: 99 USD/EUR, 89 GBP.
More information: Native Instruments