I've added two new tracks to the KVR contest entries page.
Onzekerheid
The theme for the August contest was Form. The idea was to compose a piece that falls into one of the following musical forms:
ABA
ABAC
AABA
See if you can figure out which one I chose! This is my first entry with vocals (I recently bought a cheap Akai mic at a junkyard sale for a few bucks), and they're in Dutch in case you don't know what you're listening to. I wasn't too impressed with my vocal performance myself, but it's common knowledge that poppy songs with vocals tend to do better than instrumentals, so I ended up in 4th place out of 40+ entries anyway.
core - onzekerheid (Download size: 1.83 MB)
Boards of Hollandia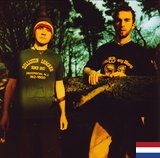 The September theme was YRUme (why-are-you-me), in which we were supposed to emulate a band or artist. Covers weren't allowed so the difficulty was in creating something that sounded like someone without actually doing one of their songs.
At first I though I'd do Dinosaur Jr. or Sonic Youth, but as I was on the beach in Tunisia most of September I decided to do something less time consuming.
I started out with some pads in Oatmeal, put some LFO on it and figured I should have a go at a BoC type piece. In the end it didn't quite come out gritty enough, but I'm pleased with the overall result. It didn't rate well at all with the peeps at KVR, getting just a few votes and placing somewhere in the middle of the results list. There were a few amazing entries though, so I'm not disappointed with my score.
core - boards of hollandia (Download size: 1.83 MB)