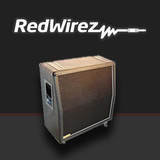 RedWirez has released a free impulse library of a Marshall 1960A with Celestion G12M 25-watt Greenbacks.
Ah, the legendary Marshall 1960A. Pretty, ain't it? With its grill-cloth glistening in the bar-light as this beast muscles out power chords in an amaranthine haze of smoke, hot lights and adoring fans… this cab positively reeks of rock… the raucous, beer-soaked, unapologetic kind. Oh, and it sounds great, too.

It was the first cab we ever sampled and is still one of our favorites, so it seems fitting to release these IRs into the wild on Redwirez' birthday.
Marshall 1960A IR features
Loaded with four, well-traveled 25-watt Celestion G12M "Greenbacks".
17 industry standard mics, so explore countless tonal possibilities: AKG C414B-ULS, Audix D6, Audix i5, Beyerdynamic M160, Coles 4038, Electrovoice RE20, Heil PR30, Neumann KM84, Neumann U47, Neumann U67, Neumann U87, Royer R121, Sennheiser MD409, Sennheiser MD421, Shure SM57, Shure SM7, TAB-Funkenwerk SM57. The paid version also includes DPA 4007, Neumann U47FET, Sennheiser MD441, Unidyne III 545, Earthworks TC30, Neumann M7 on BLUE Bottle, Neumann M8 on BLUE Bottle.
Added IRs of the G12M's impedance curve at varying degrees of prominince (paid version only). These can be used to capture the effect of a tube amp interacting with the speaker. In general, tube amps have a higher output impedance than solid-state amps. As a result the speaker's frequency response is shaped to varying degrees by it's own impedance curve. All of our cabs will be getting this update in the near future.
Up to 54 positions per mic for a total of 777 IRs (1048 in the paid version)
Uncompromising signal chain that won't add undesirable color to your sound. Bryston 4B -> Cab -> Mic -> Neve 1073 or Earthworks 1022 -> Prism Orpheus.
Edited for better phase coherence allowing you to mix multiple IRs.
The Marshall 1960A/G12M cab is available as a free download (valid email address required).
More information: RedWirez