Modal Electronics has announced the release of SKULPTsynth SE, a 4-voice portable virtual analog synthesizer with MPE support.
Based on the heritage of the original SKUPTsynthesiser, it inherits a slim form factor, but comes with traditionally colored, black and white touch keypads, easier to read front panel descriptors and improved built quality.
Equipped with 127 high energizing patches, SKULPT SE provides a wide range of highly sought-after sounds for modern music productions and live performances.
With its light-weight design, a massive synth engine and MPE support plus patch and polychain compatibility with its predecessor, SKULPTsynth SE is a comprehensive synthesizer for musicians and producers to get creative anywhere they want.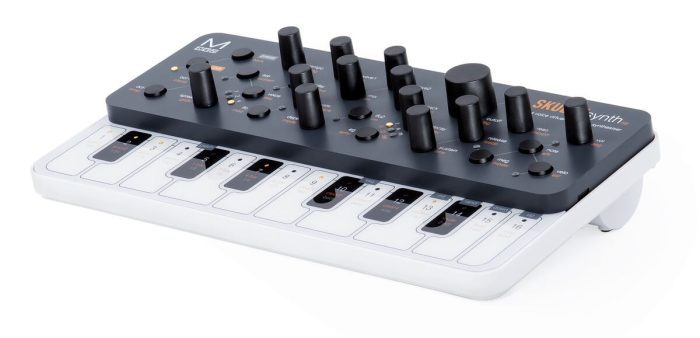 Two WAVE groups per voice with four oscillators each allow to craft carefully flavorful sonic fundaments and sweep smoothly between multiple waveforms. Additional oscillator modulation unveils an unmatched potential for sound customization. SKULPT SE's state-variable 2-pole filters morph from low pass through to bandpass and through to high pass. With its resonance feature, it picks out rich harmonics at high resonance levels.
Three envelopes give excessive control of the dynamics and expression. Two LFOs, one global and one polyphonic, can be synced to internal or external tempo. The integrated delay and distortion effects give more options to polish the sound.
SKULPT SE supports MPE and offers musicians creative new musical ways to perform with synthesizer sounds, and therefore, SKULPT SE the most affordable MPE hardware synthesizer available today. The integrated real-time sequencer and arpeggiator are acclaimed performance features and invite to immersive jam sessions. Up to 4 SKULPT or SKULPT SE can be poly-chained to form a massive 16-voice virtual-analogue sound engine.
With 127 brand-new patches, SKULPT SE offers a vast library of contemporary sounds that uplift every track. Fully backward compatible, SKULPT SE users can load any patch from the original SKULPT available from Modal's website and 3rd party sound designers. Using the free MODALapp, sound editing and sound management is easy and straightforward. MODALapp runs on all major computer and mobile platforms and offers integration in AU and VST3 DAW environments, respectively.
SKULPTsynth SE will be available by mid May 2021, with a suggested retail price of $199.99 USD.
More information: Modal Electronics