Related:
effect plugins
,
equalizer
,
Sir Elliot
,
VST
Posted in
news
on Jul 04, 2013 -
0 comments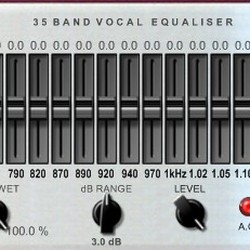 Sir Elliot has introduced the 35-Band Mastering Vocal Equaliser, a free effect plug-in for Windows.
Sir Elliot's 35-Band Mastering Vocal Equaliser is designed for Mastering Engineers who need to focus on midrange frequencies within the 440 Hz – 1760 kHz range.

More bands enables more precision to pinpoint on bringing a particular vocal or instrument in the midrange region to the forefront.
35-Band Mastering Vocal Equaliser features
Fixed Delay.
35 frequency bands offering an effective range from 430 Hz – 1.3 kHz or 550 Hz – 1.8 kHz.
Up to 44 frequency bands ranging from 440 Hz – 1760 kHz when using two 35-Band Mastering Vocal Equalisers in parallel..
Three Dry/Wet contours for Left, Right in addition to Stereo..
Selectable dB Range: 1.5 dB, 3 dB or 6 dB range
Note: 1.5 dB uses 0.01 dB increments while, 3 dB & 6 dB range uses 0.1 dB increments..
Sweep able Low-pass filter ranging from 10 kHz – 40 kHz.
Frequency Bandwidth: 7 Hz – 40 kHz +/- 3 dB.
The plug-in is available to download for Windows (VST).
More information: Sir Elliot