A complete list of products reviewed on rekkerd.org is available here.
Related:
beats
,
breaks
,
Equipped Music
,
hip hop
,
Loopmasters
,
loops
,
Raw Cutz
,
reviews
,
sampler
,
samples and sound libraries
,
vintage
Posted in
reviews
on Nov 28, 2013 -
0 comments
Raw Cutz is a new label by Erik Svahn of E-Lab and Equipped Music, and Loopmasters sample boutique owner Matt Pelling.
Together Erik and Matt have formed Raw Cutz, and hope this site will inspire musicians old and new to make exciting Hip Hop, House, Drum and Bass and other experimental forms using some of the inspirational sounds, swung beats, processed kits and found sounds that Raw Cutz and its Producers will be releasing regularly on this imprint.
The Raw Cutz Super Pack takes the 30 launch releases from the new imprint, and bundles them in a giant pack with no less than 5,645 individual samples, good for 3.3 GB content.
Whether you are looking for Punchy Kicks, Crisp Snares, Mellow Rhodes, Ethereal Vocals, Dubbed Out Basses, Glitched Jazz Guitars, Drifting Flutes, Funky Horns, Ambient Sounds, and Dusty Breaks – these smoking beats are guaranteed to add the flavour, punch and inspiration to your productions that you have been looking for.
Raw Cutz Super Pack features
300 81-99BPM Raw Break Loops
3,510 Raw Cut Music Samples
778 Raw Kick Samples
468 Raw Snare Samples
331 Raw Hi Hat Samples
302 Rex2 Files
The pack comes with everything listed above in respective folders. You do get file listings of each of the 30 individual packs that make up this super pack, but if you want to find the sounds that are from the same pack you'll have to use the file name tags to locate them.
A collection of 300 break loops (10 loops per pack) is good for 110 individual breaks, and 190 no kick/no hihat type variations. They have a nice vintage vibe, though when you audition the bunch some of the themes start to sounds a bit the same-ish. Of course nothing keeps you from chopping the breaks up, and since you also get over 1,500 one-shot drum samples so can easily make your own breaks anyway.
For me, the next bit – the "Raw Cut Inspirational Music Samples" – is what this pack is all about.
One of the first sample libraries I bought was E-Lab's Xclusive Wav Xtension (10-disc pack including the X-Static Goldmine series). I remember it cost an arm and a leg (back then anyway), and it seemed that a lot of the content was simply lifted of existing recordings – nicely processed, but not very original nonetheless. Some samples were blatantly ripped from commercial tunes, but I always loved the vibe of these samples. Especially the melodic one-shot stabs/hits are fantastic, and this is the kind of sampling that in my opinion has its merit.
The music samples on the Raw Cutz Super Pack are much the same. Bass, guitar, electric piano, flute, saxophone, organ, atmospheric sounds, etc.
Short 1 or 2 second sounds, all with that fantastic vintage funky, soulful vibe. While the sounds mostly have a Hip Hop feel, you can easily use them in other genres as well. Many samples have that lovely delay and reverb processing that you would hear on early drum & bass records.
The Loopmasters website says:
These exclusive samples have been crafted carefully by our top producers using technology including MPC and SP1200 samplers, Technics 1210 mk2 decks, Analogue Tape Machines and vintage mics and instruments including Fender Jazz Guitars, Double Basses, Horns, Rhodes Pianos and much more besides.
I have read that text a few times, and I guess it doesn't actually exclude crate digging. To be honest even if these samples weren't created from scratch I don't really care. Sampling has always been part of Hip Hop music production, and I would feel totally comfortable using these samples in my work.
Check the sound examples below to get an idea on what kind of sounds you can expect.
So what do I think?
Product
: Raw Cutz Super Pack by Loopmasters
Format
: 24-bit Wav samples
Price
: £149.95 GBP
Like
: beautiful one-shot hits/stabs, well processed for that vintage vibe
Don't like
: breaks could have bit more variation
Verdict
: 8/10
This pack is perfect for beat makers. The Raw Cutz Super Pack will save you tons of time, no need to go crate digging!
The 3,500+ sounds are just what you need to create the perfect vibe for your Hip Hop tracks.
Yes, the breaks are nice, the single drum sounds are very useful, but for me, this pack is all about the brilliant stabs, chords, hits, bass & guitar licks, atmospheric fx, etc.
The samples are processed with care to get a great vibe, totally inspiring and full of character.
Get your samplers ready, serious head bobbin' is inevitable.
More information: Loopmasters / Raw Cutz Super Pack
Related:
AU
,
CableGuys
,
instrument plugins
,
reviews
,
RTAS
,
VST
Posted in
reviews
on Sep 04, 2013 -
0 comments
I reviewed the first version of Curve about two and half years ago, and most of what I wrote there goes for Curve 2, but recently I have been designing some more sounds with this synthesizer so I thought it was a good time for an additional version 2 review.
For those who haven't heard of Curve before, it is basically a subtractive synth with some tricks up its sleeve.
Curve is a software synthesizer with an irresistible waveform editor, huge sound library and slick interface. Ideal for both experimentation and detailed tweaking at an excellent sound quality.

Feed Curve's oscillators, LFOs and envelopes with custom waveforms. For anything rhythmic from wobbles to FX loops and evolving pads. For broad oscillator timbres from deep basses to shrill, aggressive snarls.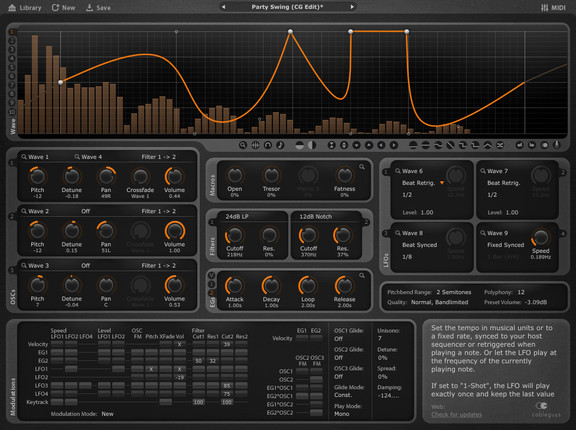 Curve 2 comes with a new layout, improved workflow, and a black skin.
I would say the main attraction of Curve lies in the drawable waveforms that can be used for the oscillators and LFOs. This allows for great control over partials/harmonics of the sounds and it welcomes experimentation which I reckon most sound designers will enjoy lots.
With version 2, you now can also use the same functionality with all three envelope (velocity + 2 custom) modules. This makes Curve an even more flexible synthesizer to work with, since you can now create/draw your own multi-stage envelopes right there in the main display.
Also new is the fact that you can combine two waveforms in a single oscillator, which likewise really opens up the way for new sonic exploration.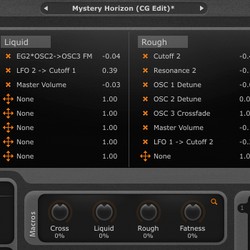 Macro knobs in Curve
A workflow improvement comes in the shape of macro knobs, to which you can assign a number of parameters for modulation.
Of course you could automate this kind of thing without macros just fine, but it where's the fun in doing that when you can create sonic mayhem with the turn of a single knob instead?
The 2 filter units are still there, and with version 2 you can now also route them individually to each oscillator, either single or both in series or parallel.
Curve 2 has a more refined, and more user friendly interface. I have to admit I wouldn't mind seeing a white/grey edition though. The new dark skin looks great but it can be a bit straining on the eyes, to me anyway. That said, it is still a lovely GUI and the workflow is great.
Add to that the ever growing online presets database (well over 2,200 last I checked) which includes tons of high quality sounds, and you will find Curve 2 to be a versatile synthesizer that can easily stand its own ground.
Check out Myagi's video on how to create a supersaw synth bass with Curve 2 for a good overview of how to design sounds on this plug-in.
So what do I think?
Product
: Curve 2 by Cableguys
Format
: VST/AU/RTAS
Price
: 119 EUR / $159 USD inc. VAT
Like
: waveform drawing, very flexible, sound designer's dream, presets database
Don't like
: –
Verdict
: 9/10
Cableguys offered something new and exciting with Curve's flexible drawable waveform based instrument, and they confidently lift the powerful synthesizer to a higher level with Curve 2.
The improved envelopes, extended oscillators, macro knobs and workflow adjustments all contribute to creating an instrument that motivate the sound designer in me.
The only thing missing is the effects section, and to be honest, I don't really miss it at all. It is still refreshing to hear what you can achieve without reverb, delay, and whatnot, and if need be there are plenty of other tools to get that job done anyway. If nothing else, the lack of effect units makes me design my sounds more carefully. Browsing the many beautiful sounds in the presets database, I realize I still have a lot to learn.
So, whether you want to create your own unique sounds, or simply enjoy the thousands of presets provided by the community, Curve 2 is definitely a synth that deserves your attention.
Related:
cassette
,
drums
,
Geist
,
Goldbaby
,
loops
,
Maschine
,
percussion
,
reviews
,
REX
,
samples and sound libraries
,
sound design
,
tape
,
tools
,
transients
,
tube
,
vinyl
,
vocoder
Posted in
reviews
on Sep 03, 2013 -
0 comments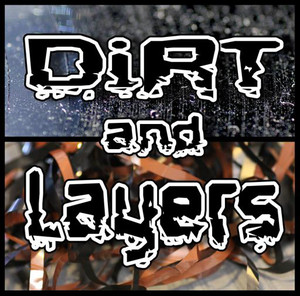 Goldbaby's latest sample pack Dirt and Layers features a collection of samples to enhance your drum and percussion sounds by adding some dirt, layers & more.
The dirt category comprises 140 sounds, including vinyl and tape noise, digital hash, guitar amp and pedal hum and more.
The dirt sounds can add subtle or not so subtle texture to your individual instruments or whole mixes. Add some vinyl noise to give the impression that your instrument was sampled off vinyl. Add some tape noise to make your recordings sound like they were done on tape before noise reduction was invented. Use the damaged cassette noise to fake your cassette sampling skills.
No less than 830 drum layering sounds are found in the layers category. These include kick drum subs, snare top sounds, sucking sounds, transients, and more.
The drum layering sounds are a fantastic tool kit for augmenting and beefing up drum sounds. Give your drums more depth and texture by experimenting with different layers. Boost the bottom end of kicks with tuned subs or add a transient layer to help it cut through a mix. Crispen snares with various top layers or add body and substance using the sauce and body layers.
For instant gratification you can drop one of the 50 loops (REX) in your track to get the authentic, characteristic sounds of vinyl, dirt patterns, etc.
While the pack is clearly designed to enhance your drum sounds and add character to (any) audio, many of the sounds are also great for using as is, or as the basis for further processing. If you like your odd percussion sounds like me, you will be in for a treat. Transient clicks and kick subs are probably best used layered with existing drum sounds, but that doesn't mean you can't use them any other way. Hugo also included things like synth fx, random noises and vocoder sounds, so you really have a good variety of sounds.
Maschine and Geist users will be happy to hear that Dirt and Layers includes browser integration for these instruments, so everything is nicely ordered/tagged and good to go right off the bat.
Check this nice video demonstrating how you can use these tools to layer sounds in Maschine.
So what do I think?
Product
: Dirt and Layers by Goldbaby
Format
: 970 wav samples (24-bit) / 50 REX loops
Price
: $29 USD
Like
: Excellent tools, top notch sound design, browser integration, Goldbaby quality
Don't like
: –
Verdict
: 9/10
I think this is one of Goldbaby's best sample packs to date. Hugo has always delivered work of the highest quality, but to me Dirt and Layers is a bit special, something like a treasure trove.
Making sure you have good quality source material to work with is really important, but there usually is room for improvement. Dirt and Layers is like a toolbox filled to the brim with the best tools for the job.
Depending on the vibe you are trying to create you will want to add some of those character noises, fatten up your drum sounds, or add some excitement with sound fx type samples. This pack has it all.
And if you like a more experimental sound, you're going to be using these samples for a lot more than layering or simply adding character. Get your creative juices flowing!
More information: Goldbaby / Dirt and Layers
Related:
ambient
,
Arte Nuovo
,
Joseph Hollo
,
patches and sound banks
,
reviews
,
soundscapes
,
u-he
Posted in
reviews
on Aug 23, 2013 -
0 comments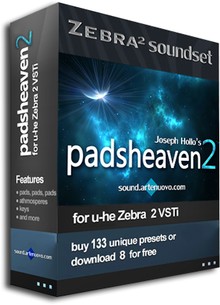 Hot on the heels on the Joseph Hollo's first soundset comes Padsheaven 2, a new collection of sounds for the Zebra 2.5 software synthesizer from u-he.
The continuation of the successful padsheaven, a brand new collection of lyrical, dramatic pads, effects and soundscapes and much more from a multiple golden and platinum record owner composer.

Like the first version, you can use them in almost all styles from classical pop/rock ballads to moviescores or even in the most up to date compositions.
The majority of Padsheaven 2 patches are pad sounds (99). A full range of pads is included, from deep & warm to icy thin. Additional sounds include a variety of keys, bass and lead, plucked instruments and drum sounds (19 patches in total), as well as 15 arp/rhythmic patches. A few variations and bonus presets make for a total of 133 patches.
Joseph has once again made good use of the various controller assignments to add lots of expressive and dynamic variety to the sounds. Aftertouch, breath and expression have been assigned to the XY pads on Zebra, so you can change multiple parameters with a single control.
So what do I think?
Product
: Padsheaven 2 by Joseph Hollo
Format
: 133 .h2p patches for Zebra 2.5
Price
: $25 USD
Like
: Beautiful sounds, well designed
Don't like
: –
Verdict
: 9/10
Padsheaven 2 goes on in the same vein as its predecessor. High quality sounds, exceptionally emotional, expressive, and beautifully sculpted by talented sound designer Joseph Hollo.
I can never get enough of good pad sounds, and this set delivers another stunning collection.
Padsheaven 2 is another must buy for any Zebra user who needs pads. And then some. The bells, leads/synths, plucked sounds… all just hitting that sweet spot. These sounds will do wonderful in ambient and cinematic works, or anything else that needs gentle, moving, astonishingly beautiful sounds.
Joseph is offering a free 8-patch demo bank so make sure to check it out.
More information: Arte Nuovo
Related:
chillwave
,
loops
,
reviews
,
Sample Magic
,
samples and sound libraries
,
Simon Pratt
,
vintage
Posted in
reviews
on Jul 30, 2013 -
0 comments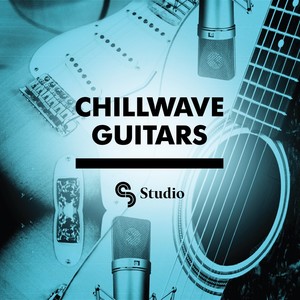 Sample Magic's latest SM Studio series sample library is Chillwave Guitars, a collection of inspiring guitar loops.
The SM Studio series is all about live instruments, and having the session musician right at your fingertips by offering quality stems recorded and processed with high-end gear.
Chillwave Guitars offers a collection of 140+ guitar riffs, phrases and textures by experienced musician, teacher and producer Simon Pratt.
From summery acoustic patterns and lilting beachside progressions to effected swells, tapetoned reverses and degraded electric guitar textures, Chillwave Guitars answers that request, serving up a wealth of 6-stringed inspiration that can slot effortlessly into the mix or form the cornerstone of new productions.
The pack features 146 processed loops of acoustic and electric guitar loops, and raw (unprocessed) versions of the recordings for 138 of them. All samples are key labeled and tempo synced to 90 and 100 bpm. REX and Apple Loops formats are also available if you want to work in different tempos or keys. The file names indicate acoustic (24) or electric (122) guitar loops.
For this collection Simon used various guitars, including a Fender Thin-Line Telecaster and a 1970′s Ovation acoustic guitar. Some classic amps and effects pedals were used, and the acoustic recordings were tracked with vintage Neumann U77 microphones.
Following in the footsteps of the sun-washed sounds of the Chillwave sample library, this guitar loops pack has a seriously laid back vibe, with that typical vintage 80′s sound and heavy use of effects processing found in chillwave music.
So what do I think?
Product
: Chillwave Guitars by Sample Magic
Format
: 24bit samples (Wav/REX/Apple Loops)
Price
: £14.90 GBP
Like
: Spot on sound, lovely themes, good variety, includes raw material
Don't like
: –
Verdict
: 9/10
With Chillwave Guitars, Simon Pratt delivers an outstanding collection of guitar loops.
The effects processing is spot on and there's a wide range of sounds, making these loops perfect for use in chillwave productions. While the sounds are beautifully designed, having the unprocessed recordings is very useful too, as you can use your own effects processing to get the sound needed for your projects.
Simon is creative and consistent in his playing, and it really feels like having a top notch session player in your studio.
More information: Sample Magic / Chillwave Guitars
Related:
arp
,
arpeggiator
,
Arto Vaarala
,
AU
,
Kirnu
,
MIDI
,
randomize
,
reviews
,
sequencer
,
VST
Posted in
reviews
on Jul 19, 2013 -
0 comments
I don't normally use arpeggiators much. It's not that I dislike them, I just don't really need them for producing my music.
That said, I do enjoy happy accidents and I like drawing inspiration from things I would normally not think of doing myself — randomize FTW — so why not give Kirnu Cream a try.
Aarto Vaarala says this plug-in is not like your traditional MIDI arpeggiator or sequencer, rather it is a very powerful MIDI performer, intended to be used in both live and offline DAW usage.
With simple and clever design it has been made easy to learn and operate. You can easily create cool performances by tweaking only couple of controls. If this is not enough for you there are so many ways you can control Cream that you never feel bored with it.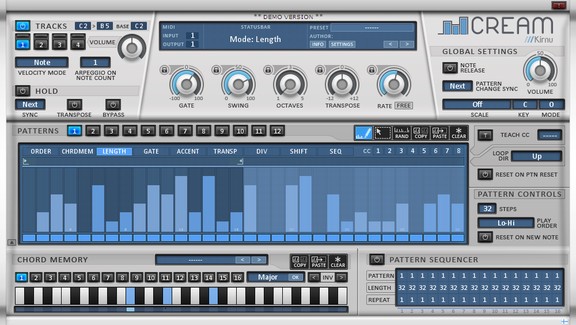 Kirnu Cream is a full featured MIDI performer plug-in for Windows and Mac.
Setting up Cream is quite straightforward. Just load the plugin on a MIDI track, set the output to the instrument you want to control, and feed Cream some MIDI notes. MIDI routing is not the same for all host applications, so if you're not sure how to do this you can check Arto Vaarala's YouTube channel for instructions on setting it up with Ableton and Logic.
Kirnu Cream has 4 tracks that can drive individual MIDI instruments with up to 12 patterns each. The patterns feature gate, swing, octave, transpose and rate controls for each of the patterns. These controls can be locked to prevent presets from changing the values.
Each track has the following pattern data screens:
Order sets which note is played (none, previous, last, first, high, low & random).
Chordmem selects which chord is used (16 chord memory slots available, up to 8 notes per chord).
Length multiplies the note lengths of a step.
Gate sets the note length for individual steps.
Accent adjusts note velocity.
Transp for transposing notes in semitones (or chosen scale).
Div allows notes to be divided into multiple (shorter) notes.
Shift lets you shift notes left and right.
Seq specifies which of all notes of a held chord in a step are actually played.
You also get 8 MIDI CC slots in which you can control additional parameters after assigning them with MIDI learn.
Each pattern data screen has up to 32 steps and various play orders, and they can be looped individually with the loop control. Looping is left to right, right to left, or back and forth between start & end, and reverse. The pattern data can simply be drawn in with your mouse, and there are handy copy/paste, randomize and clear buttons. Unfortunately there is no undo/redo.
A pattern sequencer is also included. It has 16 slots in which you can assign the pattern, length and amount of repeats. Cream uses a number of MIDI keys to control pattern data toggles and pattern changes, which follows the global pattern change sync. Cream comes with some 40 scales to restrict the notes used by the arp.
Check this nice demonstration video on how to use Kirnu Cream's loop points, patterns and the pattern sequencer to create a nice chord progression.
So what do I think?
Product
: Kirnu Cream by Arto Vaarala
Format
: VST/AU instrument plugin
Price
: 35 EUR
Like
: inspirational & flexible MIDI performer, control zones, randomize
Don't like
: not so intuitive
Verdict
: 8/10
Well, I'm still a bit divided on Cream. While I am well impressed with what it can do, I prefer to simply program my sequences manually. That is, when I know exactly what I am looking for.
I think Cream (and arp tools in general) might be more useful to producers of certain types of electronic music. Arps are a staple of the trance diet, and I can see Cream will definitely be something that can improve/speed up one's workflow a lot. However, I don't produce trance.
What does totally click with me though, is using Cream as an inspirational tool. Enter some data in the pattern screens, clicks a randomize button, set some loop points, and voila! It allows me to create sequences that I would never not think of myself. With the right settings you can even use it on drum/percussion instruments to create interesting rhythmic sequences. Being able to control patterns with MIDI is great for live performances, as well as the creative process in the studio.
I would like to point out that I didn't find Cream totally intuitive. This could be due to my lack of experience with arp tools. The manual explains the basics pretty well and it is worth a read for the shortkeys, but for more hands-on instructions you should watch Arto Vaarala's YouTube videos.
In short, Kirnu Cream is powerful and inspirational MIDI tool. It goes well beyond the traditional arpeggiator, offering lots of flexibility in programming and performance.
More information: Kirnu Cream
Related:
deep house
,
Ghostek
,
Lo-Fi
,
loops
,
reviews
,
Samplephonics
,
samples and sound libraries
Posted in
reviews
on Jul 01, 2013 -
0 comments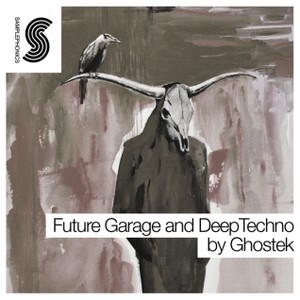 Samplephonics has collaborated with yet another interesting producer for its Future Garage and Deep Techno sample library.
Mysterious producer Ghostek presents a deep and varied sample library, containing an eclectic selection of lo-fi garage breaks, driving techno percussion, granular pads, dark brooding atmospheres, deep and sometimes sinister basslines, and a huge collection of one shot drums and effects samples.

From airy, floaty trips to sinister, pulsating rhythms, this sample pack pushes forward the deep house, garage and techno movement towards something that is both unique and varied, yet somehow bound together by a distinct feeling of otherworldiness and emotion.
I was not familiar with Ghostek's productions, so I had a quick listen to some of his tracks at his SoundCloud.
Ghostek's style is seemingly dark and otherworld-ish indeed. Next-gen garage style beats and percussion mixed with minimal melodic themes drenched in reverb, electric static bass sounds and haunting vocal snippets.
The sample pack kind of sounds like a dive into Ghostek's personal stash of samples. Here's a breakdown of what is included:
43 bass loops.
191 combi drum loops.
287 one shot samples

70 FX
25 hats
60 kicks
72 percussion
60 snares

77 pads and atmos.
61 percussion & top loops.
26 synth loops.
6 sampler patches for Kontakt, EXS24 & NN-XT are included. These group sounds for easy auditioning.
The bass loops immediately set the tone. Ghostek is on some different stuff. Growling reeses and distorted hardcore stabs alternate with deep sub basses and techno lines. There's a lot of creative processing going on. In general the bass loops are quite raw sounding.
Whereas the bass section smells more of drum and bass than garage or deep techno, it's the combi drum loops that show this sample library's true colors. The mix of syncopated garage shuffles and straight on deep techno beats is interesting. Both have a totally different feel, yet Ghostek blends them seemingly effortless. With close to 200 loops there is plenty of variety in these 4 to 8 bar loops. With a variety of lovingly applied sound effects, there's not a bland beat to be found really.
The one shot sample section includes sound fx as well as various drum elements. These compliment the loops well and can be used to construct completely new beats from scratch. Very useful.
The pads & atmos are stunningly beautiful. Ghostek knows how to use reverb to create gorgeous, intricate soundscape type sounds. Very cinematic, and well suited to minimal or ambient music. I was pleasantly surprised that on their own, many of these samples actually have a very uplifting character. My only gripe is that some of the loops are cut a bit too short. They're alright, but they just end too abrupt for my taste. Specifically the reverb heavy sounds would benefit from a longer tail.
The percussion and top loops again show Ghostek's different approach. They have a lo-fi quality about them that I really enjoy. Lots of creative processing results in a very musical batch of sounds.
Lastly, the synth loops folder features another collection of melodic sounds. It is a bit of a mixed bag—not your typical synthesizer sounds, but very useful and inspiring. Some of the most beautiful samples I have heard in a long time.
Check the official demo tracks below to get an impression of the sounds of Future Garage and Deep Techno.
So what do I think?
Product
: Future Garage and Deep Techno by Ghostek
Format
: 24bit samples (various formats)
Price
: £34.70 GBP
Like
: unique material, inspiring, single shot samples
Don't like
: pads/atmos could evolve more or have longer tails
Verdict
: 9/10
What a gem! The sounds of Future Garage and Deep Techno are so refreshing. There is lots of unique sounding material, it feels like uncovering a goldmine.
Though I found Ghostek's music to sound rather dark, the samples in this production actually didn't give me the same vibe. My favorite sections are the pads/atmos and the combi drums, but to be honest the whole pack is brilliant.
Ghostek's Future Garage and Deep Techno is very musical and inspiring. If you are in for some new sounds, check it out!
More information: Samplephonics / Future Garage and Deep Techno