A complete list of products reviewed on rekkerd.org is available here.
Related:
cinematic
,
drone
,
ModeAudio
,
reviews
,
samples and sound libraries
,
sound fx
,
soundscapes
Posted in
reviews
on Aug 19, 2014 -
0 comments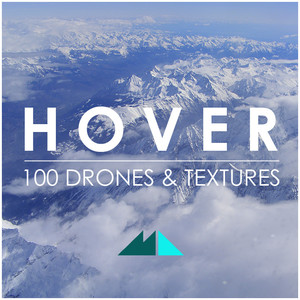 With the Hover sample library, ModeAudio takes on the world of drones and textures.
Packed full of strange, floating tones, waves of noise, rasping, metallic textures, deep bass and circuit-bent synths, this release brings you 100 carefully prepared atmospheres to pour seamlessly over your mixes.

All the sounds move to their own internal rhythm, dancing and metamorphosing into exciting, unusual sonic forms.
The samples are categorized in 6 folders:
Ambiances (30)
Bass Drones (20)
Guitar Drones (10)
Metallic Drones & Textures (10)
Noise Drones & Textures (15)
Synth Drones (15)
The ambiance themes come with 3 samples each that can be layered. So you have something like a main bass or synth drone sound that you can layer with a texture, soundscape, some noise fx, etc. Other folders simply have a collection of individual 20 to 58 second recordings.
All files have descriptive titles including an indication of the type of sound, where applicable (noise, texture, bass, scape, etc).
The audio clip below demonstrates some of the sounds included in this pack.
So what do I think?
Product
: Hover by ModeAudio
Format
: Wav (44.1kHz/24 bit)
Price
: £15 GBP
Like
: Nice variety of sounds, well designed
Don't like
: some samples could be longer
Verdict
: 8/10
Dark brooding bass, evocative melodic guitar scapes, sputtering noises, otherworldly synths, rhythmic crackles, reverb drenched goodness…
ModeAudio has recorded a nice variety of sounds using a diverse collection of sound sources. These drones and textures are on the more creative end of the genre, with lots of movement and dynamics. I personally like this a lot, but for some of the samples I really wish they were longer to allow a more elaborate development of the sound.
In short, the Hover pack includes a lovely bunch of well designed, quality samples that are great for cinematic/underscore works, game soundtracks, ambient music, and more.
Related:
Matt Bowdler
,
patches and sound banks
,
reviews
,
The Unfinished
,
u-he
Posted in
reviews
on Jul 18, 2014 -
1 comment
Matt Bowdler is one of my favorite sound designers. As The Unfinished, Matt has established himself in the genre of film scoring with many top quality sounds for synths like Zebra, Omnisphere, Massive, Virus TI, and more.
I'm always excited to see a new title, and especially when it's for one of my favorite plug-ins, like u-he's Diva virtual analog synthesizer.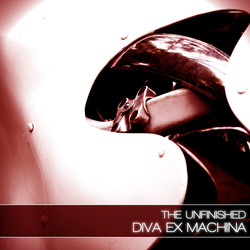 The Ex Machina soundset features a full bank of 128 sounds for Diva. The focus is on analogue type electronic sounds, suitable for film scoring and electronica.
Ex Machina is something of a special synth soundset as it includes all the patches I designed for the composer Nathan Furst to use in his score for Need For Speed. I have to thank Nathan and DreamWorks for very kindly giving me permission to share the sounds I designed for Nathan. Also in this soundset are a number of other sounds inspired by the work I was doing for Nathan.

The collection features a plethora of warm, punchy basses; ethereal, drifting pads; gentle, old skool sequences; deep, dynamic basslines; classic, spacey leads; and sinister, evocative soundscapes. All programmed with a little musical, kinetic energy in the modwheel, as you would expect.
As with many of Matt's other soundsets, there's a lovely walkthrough video showcasing the sounds in Diva Ex Machina. Check it out below to get an idea of what's included in this set.
So what do I think?
Product
: Diva Ex Machina
Format
: .h2p for u-he Diva
Price
: £19.99 GBP
Like
: Superb sound design, flexible sounds
Don't like
: –
Verdict
: 9/10
Well, I can be fairly short here. Absolutely. Stunning. Sounds.
There is such a high level of quality in these sounds, and they are so full of character, I deeply enjoy playing each and every one of them.
That said, the leads and pads are definitely my favorites. Some of these mesmerizing sounds just keep me noodling. So inspirational.
Also, I should mention the soundscapes are amazing. Hold a note and sit back. I know we'll be hearing some of these sounds on the screen.
Anyway, I said I was going to be short, so just get this pack, it's simply brilliant.
There are some more audio demos on The Unfinished website and you can download a free demo pack with 15 presets for this set so you can check it out for yourself.
More information: The Unfinished / Ex Machina
Related:
Lacuna Sound
,
patches and sound banks
,
Reveal Sound
,
reviews
Posted in
reviews
on Jun 05, 2014 -
0 comments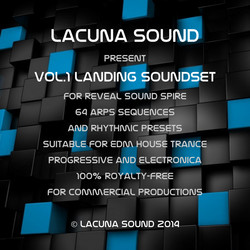 The Vol.1 Landing Soundset by Lacuna Sound offers a collection of patches for the Spire synthesizer by Reveal Sound.
Vol.1 LANDING – 64 arps sequences and rhythmic presets
Suitable for EDM house trance progressive and electronica production
The Landing soundset focuses on rhythmic sounds. The patches make use of Spire's arpeggiator and step sequencers, to provide melodic sequences and for modulating various parameters to create moving sounds.
Here's a quick run through the patches. One note was pressed for each preset.
So what do I think?
Product
: Vol.1 Landing Soundset
Format
: Reveal Sound Spire soundbank
Price
: $16 USD
Like
: Nice movement in sounds
Don't like
: Sounds are a bit fx heavy
Verdict
: 7/10
Vol.1 Landing is a bit of a hit and miss for me. I like quite a lot of the patches, but I'm actually not so crazy about arp/seq type sounds. So what I usually do is turn off the arp and see what's left. In this case I did not find many sounds that stood out, and they are quite fx heavy.
Perhaps Lacuna Sound has rushed into the sequencing and animating aspect of the patches, where more attention could have been given to the base sound design. That said, the soundset does deliver some tasty sequences and the movement in the sounds is nicely done. If you like using arp sounds then this pack has plenty to offer.
A free demo pack with 8 patches is available to download, so check it out and see what you think.
More information: Lacuna Sound
Related:
Bronto Scorpio Music
,
patches and sound banks
,
reviews
,
u-he
Posted in
reviews
on Apr 02, 2014 -
0 comments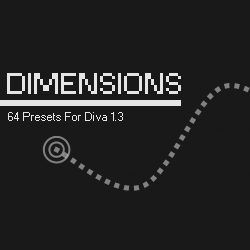 Dennis of Bronto Scorpio Music has recently released Dimensions, a soundset for the Diva virtual analog synthesizer instrument by u-he.
The goal was to take the limited structure of Diva and get the most out of it using various little tricks.

The result is 64 new patches, which range from classic synth to more modern, futuristic and even somewhat experimental sounds.
Here's a breakdown of the patches:
9 Arps
9 Bass
8 Chords
6 Drums
7 FX
10 Pads
5 Plucks
10 Synth
The patches make good use of modwheel, aftertouch, pitchbend, etc. so those who play the keyboard well will benefit from a good dynamic range.
I had a short run through the patches, so check the video below to get an idea of what you can expect from Dimensions.
So what do I think?
Product
: Dimensions by Bronto Scorpio
Format
: Patches for u-he DIVA
Price
: 10 EUR
Like
: Fantastic chords & pads, very dynamic, great value for money
Don't like
: –
Verdict
: 9/10
Dennis managed to bundle quite a lovely set of patches into this bank. Within these 64 patches there is a good amount of variety, and every single sound is very well designed. It seems that synths like Diva tend to bring out the best in sound designers.
While all patches are really good, the chords and pads are my favorites. There are some absolute gems in there, good for instant inspiration.
At just 10 euros I think Dimensions is a no-brainer. You can hardly go wrong, but if you're still not sure if this set is for you, make sure to check out the 10 free demo patches available from the Bronto Scorpio website.
More information: Bronto Scorpio Music / Dimensions
Related:
AU
,
instrument plugins
,
reviews
,
Tone2
,
VST
Posted in
reviews
on Mar 28, 2014 -
0 comments

Tone2′s latest synthesizer instrument Nemesis aims to take FM synthesis to the next level with NeoFM, which offers a "genuine FM synthesis" approach.
From the manual:
Most conventional FM synths such as the DX7, use phase modulation (PM) instead of genuine FM synthesis, yet such synths are branded as FM synthesizers for marketing reasons. However, the traditional PM approach is limited to using dark sounding waveforms like sinoids or triangles, which results in a dull or bell-like sound. Classic waveforms like a sawtooth do not work well with it because they result in an unpleasant, sharp and excessively metallic sound.

'Real analog FM' suffers from drift and lacks precision, resulting in a disharmonic sound, which is musically not very useful. The innovative neoFM approach, exclusive to Nemesis, combines only the advantages of both types of synthesis without suffering from any of the weaknesses associated with PM or 'Real analog FM' synthesis.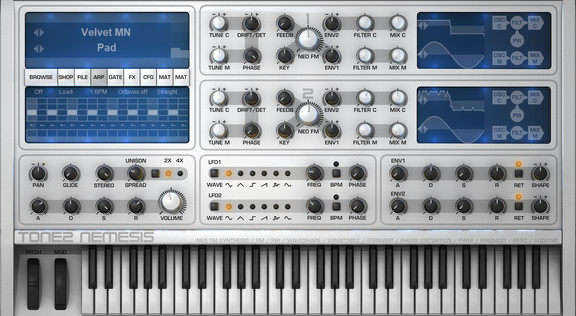 The Nemesis interface, similar in style to the RayBlaster, Saurus & ElectraX synths.
Nemesis features 22 synthesis types that can be combined in 2 oscillators to expand traditional FM synthesis with other methods like additive, wavetables, phase distortion, formant, waveshaping, sync and reso synthesis, and more. You can use your own samples as waveforms as well, and editing of waveforms is easy with the additive spectral editor.
The oscillator section has a carrier and modulator oscillator, with tune, envelope, filter, and mix controls for each. The filters are a bit different in that they are very steep (90dB slope) 0-phase filters which operate directly on the waveform. This means that as you turn down the filter it filters out the partials.
The oscillators also have drift/detune, phase (start phase of waveform), feedback, and an FM keyfollower for the Neo FM knob, which controls the amount of FM applied to the oscillator.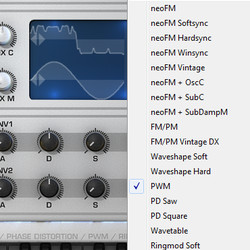 From the oscillator display you can select one of the 22 synthesis modes, the active one being shown on the right side of the screen. Both carrier and modulator oscillator waveforms are dynamically updated so any chance will be reflected in this screen.
A large selection of waveforms is available, and you can also load your own samples and resynthesize waveforms.
Want more control? The additive spectral editor lets you manipulate the partials and phase of waveforms.
The additive editor of Nemesis can handle the first 32767 partials of any waveform and you have detailed control over the phase of the waveform. This can make a significant difference in the sound, especially when the oscillator is played at a low frequency.
The first 16 partials can be modified directly from the oscillator display with sliders, the higher partials and phase are changed with modifiers, which are destructive. However, you can export your waveforms so if you're working on variations you might want to keep make sure to export often.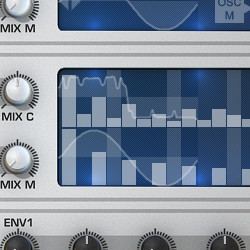 A few dozens of spectral modifier presets are available for modifying the whole waveform with spectrum, phase, volume, damp, cut, mod, and noisegate processes.
As it befits Tone2, they have also included a well featured arpeggiator, a flexible dedicated gate, 2 FX slots with 33 effects, and a bunch of voice and audio settings, including various modes for play, glide, re-triggering, boost, micro-tuning, clip, punch, and eq.
A 12-slot modulation matrix lets you easily set up sources and destinations from drop-down menus, including the 2 LFOs (bpm syncable) and 2 envelopes available in Nemesis.
Nemesis comes with well over 1,000 patches, including arps, bass, leads, pads, keys, synth, fx, and many more. Check out Tone2′s demo below to get a taste of what this synthesizer sounds like.
So what do I think?
Product
: Nemesis by Tone2 Audiosoftware
Format
: VST/AU
Price
: 149 EUR / $199 USD
Like
: Crisp sounds, large factory bank, easy to use
Don't like
: Bit pricey
Verdict
: 9/10
I have to commend Tone2 on once again doing something new. You would think FM synthesis has already been well covered with the synthesizers from the 80′s and Native Instruments FM8 software instrument.
Still, Nemesis manages to take a fresh approach, delivering a feature set that allows you to get the sounds that made 80′s pop music, as well as the sounds of current EDM genres like dubstep or trap music.
The synthesizer is easy to use, and sounds great. I would tag it "digital" and "crisp", though you can also get some really smooth analog type sounds from it. It is quite a bit more versatile than I had expected.
Related:
Massive
,
MIDI
,
ModeAudio
,
patches and sound banks
,
reviews
Posted in
reviews
on Feb 25, 2014 -
0 comments

The Dust Road soundset by ModeAudio aims to bring the sounds of analogue synthesizers to Native Instruments Massive.
Now, I guess Massive isn't exactly known for its warm, analogue type sounds. You might think it's all about aggressive dubstep wobbles & harsh, digital sounding electro stabs, but it does in fact sport an analogue architecture.
Here's what ModeAudio says about this:
"But Massive is digital, it can't possibly produce a sound like analogue!?" we hear you cry. Think again! The dazzling variety of sampled waveforms, resonant filter choices and dizzyingly complex modulation capabilities allow Massive to conjure up sounds every bit as lush, unstable and warm as its analogue counterparts.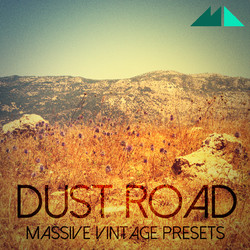 Dust Road exploits these abilities entirely, bending pitches, blending waveforms, blurring filters and blitzing standard routings, all to gorgeous effect. Hear the decayed, constantly-shifting sound of analogue audio come to life, complete with full sound sculpting options. Every macro control of every preset has been hot-wired to give you full access to and control of your sound.
Dust Road comes with 50 presets: 10 bass, 5 chords, 5 lead synths, 15 pads, 5 plucks, and 10 classic synth sounds. It also includes 50 MIDI loops which showcase the bass, synths and chords.
Below is a short video of me checking out the patches. The end of the video includes a short demo clip I made in some 15 minutes, using only the sounds from Dust Road and a drum kit preset from ModeAudio's Hyper Beats for Maschine 2.0.
So what do I think?
Product
: Dust Road by ModeAudio
Format
: 50 Massive patches + 50 MIDI files
Price
: £12 GBP
Like
: Gritty vibe, lots of movement in the sounds
Don't like
: Plucks
Verdict
: 8/10
It's great to see a soundset for Massive with a bit of a different approach. I think Dust Road does a great job showcasing the more analogue side of Massive.
I have to admit the lovely demo track at the ModeAudio website already won me over. This pack has so many unique sounding patches, I am well impressed with Dust Road.
I love the movement, the slight variations you get when holding a note, and the useful macro assignments. With the included MIDI's you get a good idea of what ModeAudio was thinking of when designing the patches. The only section that didn't do much for me was the plucks.
In general, I reckon you're going to get some good use out of the sounds of Dust Road, especially if you do downtempo electronic music or cinematic works that need a gritty, analogue type vibe.
Related:
loops
,
Oliver Schmitt
,
reviews
,
samples and sound libraries
,
Sounds of Revolution
Posted in
reviews
on Jan 27, 2014 -
0 comments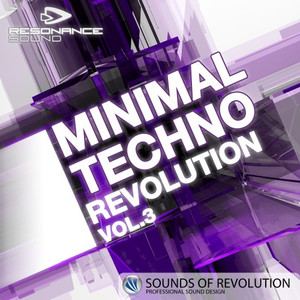 Sound designer Oliver Schmitt (aka Sounds Of Revolution) has kicked it up a notch with the third title in the Minimal Techno Revolution series of sample packs.
Distributed by Resonance Sound, Minimal Techno Revolution Vol.3 covers special organic sounds (e. g. live drums, live bass loops, field recordings) right next to all-time favorites such as true analog drums, SID samples (C64-style), loads of drum loops with/without kick and a variety of carefully processed vocals.

Missing something? How about kit loops for starters, dark and mystic atmospheres, hypnotic bass and synth loops, semisynthetic field recordings or never-heard fx sounds shaking the ground to its every bit?
The sample pack includes both one-shot sounds and loops, no less than 1,435 samples (24-bit) in total.
The one-shot sample folders features 51 kicks, 34 claps, 39 snares, 43 hi-hats, 25 crash & ride cymbals, 63 percussion, 42 click & grain sounds, 49 SID sounds, 112 vocal samples, 65 processed live recordings, and 122 fx sounds.
There's a good variety in sounds, and although most of these are staple type sounds, they are very solid and you can hear Oliver's attention to detail in the production. The last two (processed recordings & sound fx) have the most character and include some really well designed sounds, in particular some of the designed fx samples are brilliant.
On the loops front we have 63 bass & 35 live bass loops, 219 kick free loops, 281 kit loops, and 152 synth loops.
The bass loops are quite minimal and really well processed. They come with some variations, and a good amount of different bass sounds was used. The live bass recordings by Heiko Steinweg are also crafted into some lovely sounding loops. These have a great funky vibe and the creative processing here makes for some unique sounds.
The kick free loops are great for layering. This section is split up into four sections: hihats, mixed, percussion, and vocals. The kit loops include various parts of beats as individual loops, so many of these are basically also kick free loops. Again, a solid selection with plenty of variety in style and sound.
The synth loops section is probably my favorite of the pack. It includes some beautiful chord stabs, big pads, and other melodic gems. Dry versions are included for quite a few of the loops so you can apply your own fx chains.
All loops are 127 bpm, and key info is included in the file names where relevant.
Besides the synth loops, another favorite is – funnily enough – a bonus folder of atmosphere sounds. Big reverb stabs, filtered gritty sounds, futuristic machine noises, eerie atmos, reversed sounds, lovely strings… Love it!
You can listen to some of the sounds of this pack in the demos below.
So what do I think?
Product
: Minimal Techno Revolution Vol 3 by SOR
Format
: 24-bit Wav samples, REX/Kontakt/ESX24
Price
: 47.99 EUR ex. VAT (individual parts also sold separately)
Like
: Quality production, creative and well designed sounds
Don't like
: –
Verdict
: 9/10
Oliver shared with me that he has worked long and hard on this pack, and I think it shows.
Minimal Techno Revolution Vol 3 includes a well-balanced, useful collection of loops and samples, and the overall quality of sounds is simply great.
I would say this pack goes way beyond Minimal Techno, with interesting material for producers in a much wider range of electronic styles.
In short, Oliver's sound design and production skills make for a top notch sound pack that offers a lot of bang for the buck.
Resonance Sound is offering a free demo with 25 samples from the pack, so check it out for yourself.
More information: Resonance Sound / Minimal Techno Revolution Vol 3